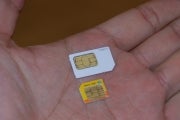 Next week, two proposals for a new, smaller SIM card, dubbed nano-SIM–one backed by Apple and the other by Nokia, Research In Motion and Motorola Mobility–will go head to head as ETSI (the European Telecommunications Standards Institute) decides which card future smartphones and tablets will use.
The vote is scheduled for March 29, according to a spokesman at Giesecke & Devrient, which manufactures SIM cards. The decision was supposed to have been made by the end of last year, but was pushed to March, he said, without elaborating on any disagreements that may have caused the delay.
The companies involved in the process are keeping a low profile. Apple isn't commenting, while Motorola only confirmed it is working with RIM and Nokia, which said that it obviously believes the proposal it backs has significant technical advantages.
When ETSI, whose membership includes both vendors and operators, makes its decision, the standards organization may decide to go with one of the proposals, both or none of them, it said.
As patent licensing becomes more contentious, the development of standards has become more important, according to Pete Cunningham, principal analyst at Canalys.
If there are patent claims essential to implement the nano-SIM standard, ETSI would request that they be licensed under so-called fair, reasonable, and non-discriminatory (FRAND) terms. If a company with patents doesn't agree to that, the proposal would have to go back to the drawing board, according to ETSI.
But the companies involved came in to process knowing that, ETSI's Ultan Mulligan said.
However, that is no guarantee for a smooth licensing process. Motorola and Samsung Electronics are both using essential patents in their respective legal battle with Apple.
Also, recently a disagreement flared up between Google, which is in the process of acquiring Motorola, and Apple over how essential patents should be licensed.
Apple wants to change the way they are licensed. The company's suggested new terms include the promise to not try to block the sale of products when negotiations have failed. Meanwhile, Google wants to continue in Motorola's footsteps and act aggressively to capitalize on its patents.
When the nano-SIM card eventually becomes standardized, its smaller size will free up room for additional memory and larger batteries, helping phone vendors create thinner devices, according to Giesecke & Devrient.
Measuring approximately 12 millimeters by 9 millimeters, the new SIM will be about 30 percent smaller than the micro-SIM. The thickness of the cards has been reduced by about 15 percent, according to Giesecke & Devrient. The nano-SIM is also approximately 60 percent smaller than traditional-size SIM cards, which are still used by a majority of phones, the company said.