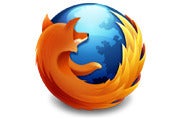 Mozilla is currently testing default encrypted Google searches for all Firefox users, with the intent to make all Google searches encrypted in the near future, the browser maker said on Wednesday.
"We are currently testing the change to use SSL for built-in Google searches in our Firefox nightly channel," said Johnathan Nightingale, senior director of Firefox engineering, in an email. "If no issues are uncovered, it will move through our Aurora and Beta release channels before eventually shipping to all our Firefox users. This will include migrating the changes to our non-English version of Firefox, as well."
Google is the default search engine used by Firefox. There is no official word from Mozilla, however, on exactly when it will switch Firefox end users to default encrypted Google searches. Once the feature ends up on the Aurora and Beta release channels it will be generally available soon after, Mozilla said. The browser maker noted that development for each release channel could take up to six weeks.
Firefox is used by about 21 percent to 25 percent of Internet users globally, according to NetApplications and StatCounter. Firefox developers have been discussing standard encrypted Google searches within their browser since February. At the time the search engine was not ready to welcome all Firefox users to encrypted Google search, said Adam Langley, security engineer at Google.
Compared to unencrypted searches, Google's encrypted search was not fast and complete enough, he noted in comments on the Bugzilla page discussing the proposed changes. However, he added: "We would welcome Firefox giving their users the option to use encrypted search."
Now, Firefox appears it will be the first browser to offer default encryption for Google searches. Google's Chrome browser does not encrypt searches by default.
As of March 8 Google started rolling out default-encrypted searches for signed-in users only. Standard encrypted Google searches were added to the Firefox Nightly Build last Sunday, apparently with Google's approval. Google could not immediately respond to a request for comment.
In December, Mozilla said it renewed its search deal with Google, which provides "significant revenue" to the browser maker. The deal was extended for another three years. According to an AllThingsD report the deal is worth $300 million a year.
The Google contract generated 84 percent of Mozilla's revenue of $123 million in 2010, the last year full year for which detailed financial information is available for the browser maker, a tax-exempt organization.
Loek covers all things tech for the IDG News Service. Follow him on Twitter at @loekessers or email tips and comments to loek_essers@idg.com