More controversy for the new iPad: PCWorld Labs testing and follow-up hands-on tests that I performed indicate that the latest version of Apple's tablet charges only minimally when it is in use. This performance flaw is particularly problematic because the new iPad battery is slow to recharge. Of 43 tablets that PCWorld has tested, the third-gen iPad takes the longest to recharge its battery fully–almost six hours.
Where's the Charge?
In my experience, other mobile devices (including the previous iteration of the iPad) do not have this problem. I frequently use my tablet or phone while it's plugged in and charging, so that I don't have any interruption in usage. To conduct these tests with the new iPad, I waited until the tablet had dropped to 3 percent battery life before plugging it in to begin charging. I then used it, plugged in, for at least five consecutive hours, with Wi-Fi on but the Verizon LTE disabled.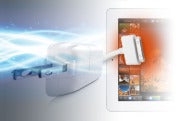 Surprisingly, the new iPad's battery percentage indicator showed no increase in charge during those hours of use. Some of the reports I've seen online indicate that the battery fails to charge only when performing processor-intensive tasks such as displaying videos and running games, but I found that the problem persisted across a wide range of activities. Over the course of my test, I downloaded and tried out apps, viewed photos, sent email messages, surfed the Web, and listened to lots of music; I also played short sections of standard- and high-definition video, and–oh yes–played games. In that time, the battery gauge simply didn't budge. For the entire testing period, I left the display on maximum brightness, with no auto-brightness, and set the screen time-out to 'never'.
The charging problems do not appear to be isolated events. My colleague Leah Yamshon, a staff editor at Macworld, reports that her new iPad's battery gauge dropped by a percentage point while it was plugged in and she was downloading new apps from the App Store. And Macworld staff editor Alexandra Chang simply noted that charging was "slow"–an observation we've confirmed in our PCWorld Lab tests.
New iPad vs. the Old
To verify that I had identified a problem peculiar to the third-generation iPad, I tried charging both the new iPad and the iPad 2, with the display brightness maxed, auto-brightness off, and the same song playing at the same volume on both units. Playing music is one of the least CPU-intensive tasks you can throw at a tablet, but it has the benefit of demonstrating, quite audibly, that the unit is in continuous use.
This second test confirmed my initial findings: The new iPad barely registered an increase in charge, despite the light use. When I started, the new iPad registered a 43 percent charge, and 22 minutes later it advanced to 44 percent. The gauge did not budge again for 28 more minutes, at which point it crept up to 45 percent.
The iPad 2, by contrast, started at a charge of 94 percent and took just 2 minutes to move up to 95 percent. A mere 7 minutes later, it registered 96 percent; and 28 minutes after that, the iPad 2's charge stood at 99 percent.
As part of our routine evaluations of tablets, PCWorld Labs tests both battery life and how long the battery takes to recharge. On the latter measure, the new iPad took noticeably longer than its predecessor.
Granted, the new iPad has a larger battery–41 percent bigger than the one in the iPad 2, with the largest mAh (milliampere-hour) rating of any tablet we've tested (the higher the mAh, the longer a battery should last).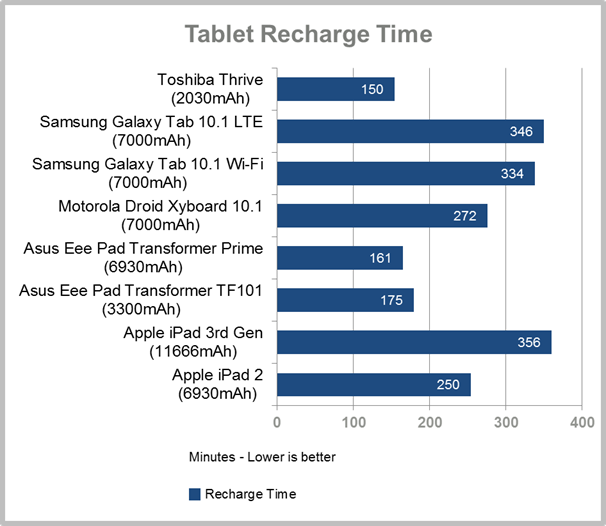 The chart above outlines how the new iPad and other slates fared in our recharge time test. The Android-based Asus Eee Pad Transformer Prime posted the most impressive result on this measure, when you take battery size into account: Despite having a reasonably large (6930mAh) battery, it took just 2 hours, 41 minutes to reach a full charge. The iPad 2, with the same-size battery, took 4 hours, 10 minutes minutes to reach a full charge. The third-generation iPad, with its big 11666mAh battery took a whopping 5 hours, 56 minutes to recharge. That's not much longer than two versions of the Samsung Galaxy Tab 10.1 took despite their having significantly smaller (7000mAh) batteries–the LTE version took 5 hours, 46 minutes and the Wi-Fi version took 5 hours, 34 minutes–but it's still a long time.
These results should be of concern to anyone considering the new iPad. Its lengthy recharge time and its extreme slowness to charge while in use give highly mobile users reason to question its travelworthiness.
For other recent reviews and critiques of the new iPad, see these stories:
• "Apple iPad Review: The Retina Display Redefines the Tablet"
• "ITunes Appears to Change Colors of Images Sent to the New iPad"
• "New iPad Runs 10 Degrees Hotter Than iPad 2"