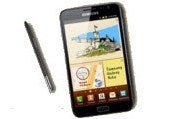 Samsung Electronics will upgrade its Galaxy Note to Android 4.0 or Ice Cream Sandwich starting during the second quarter. The upgrade will also include new applications that take advantage of the device's digital pen, the company said on Thursday.
The upgrade will be distributed worldwide, Samsung said, without sharing any detailed arrival dates. In December, Samsung said the product would be upgraded during the first quarter.
The Galaxy Note was originally launched in September. It has a 5.3-inch Super AMOLED display, and can be used a smartphone or a "smart notepad," according to Samsung. The digital S Pen lets users write and draw directly on the screen.
The so-called Premium Suite will besides Android 4. 0 also include S Note, an app that lets users combine their notes and sketches with other digital content, according to Samsung. The application will come with templates for meeting minutes and diary entries, it said.
Another pen-enabled application is My Story, which will make it possible to create cards for friends or family using any type of content such as notes, video content, photos, text or voice.
However, the latest version of Android is the most important part of the Premium Suite. It has a new user interface with a redesigned menu for easier multi-tasking. Android 4.0 also introduces features such as Face Unlock, which allows users to log in using face recognition, and Android Beam, which shares content using NFC (Near-Field Communications).
Last week, Samsung started upgrading its Galaxy S II to Android 4.0, as well.
Other phones and tablets that will be upgraded include the Galaxy S II LTE, Galaxy R, Galaxy Tab 7.0 Plus, 7.7, 8.9, 8.9 LTE and 10.1, Samsung said at the time.
Send news tips and comments to mikael_ricknas@idg.com