The HTC Vivid is already an awesome phone, but starting today, it is going to be that much better with an update to Android 4.0 aka Ice Cream Sandwich. AT&T is the first U.S. smartphone to get the update via a wireless carrier.
Ice Cream Sandwich is a complete overhaul of Android and offers features like a revamped Gmail and Browser, the ability to unlock your phone with your face, a new multitasking system and improved speech-to-text features. See our deep dive into Android 4.0 to learn more about what's new.
There are a few other treats tucked away in this update. In addition to all the great features of Ice Cream Sandwich, HTC Vivid owners will also get the Beats Audio software and an updated version of HTC Sense. In our hands-on tests of Beats Audio on other phones, we found that it actually does make music sound better–but only because we've found that normal audio quality on HTC phones isn't so great. Beats Audio also only works if you have the compatible headphones, which you'll need to buy separately.
AT&T plans to update several other of its phones and tablets including the LG Nitro, Motorola Atrix 2, the Pantech Element, the Samsung Galaxy Note, the Samsung Galaxy S II and many others.
Owners of AT&T's LTE phone will be able to update the Vivid via Wi-Fi by visiting http://www.att.com/vividupdate. If you don't have Wi-Fi availability, you can download Android 4.0 to a PC and install it via sideload (via a cable).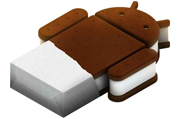 Hopefully other carriers will jump on board and start issuing Android 4.0 to their fleet of phones. Ice Cream Sandwich was announced all the way back in May 2011 at Google I/O. At the rate they're going, the next version of Android will already be out before the majority of phones are updated.