At a Glance
Expert's Rating
Pros
Good-looking output
Automatic duplex printing
Cheap color ink
Cons
Pricey black ink
No automatic document feeder
Our Verdict
Although the black ink is pricey, this inexpensive MFP's nice output will appeal to home or student users who print at low volume.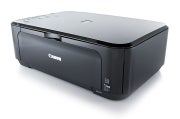 The $130 (as of March 19, 2012) Canon Pixma MG4120 color inkjet multifunction (print/copy/scan) is one of the cheaper MFPs on the market to feature paper-saving automatic duplexing. It also produces nice-looking output at a reasonable pace. Color-ink costs are lower than average for a low-price MFP, too, so photos and Web pages are relatively cheap to print. The black ink is pricey, however, so printing out everyday letters and term papers costs more than the norm.
You can attach the Pixma MG4120 directly to your PC via USB, or network it using the integrated Wi-Fi. The unit's flip-up 2.4-inch LCD screen is easy to read, and makes using the printer a breeze for the most part. Canon needs to ditch the three "function" buttons for making selections, though. Having to move your fingers to those buttons is a waste of time and effort; the OK button and four-way cursor control would suffice. The Pixma MG4120 also features SD Card and Memory Stick slots for printing photos or offloading scans.
Paper-handling features on the Pixma MG4120 are modest, though adequate for home use. You get a single 100-sheet letter/legal input tray at the front of the unit, and a 50-sheet output tray directly above it. The unit doesn't have an automatic document feeder for the A4/letter-size scanner, but it does offer an automatic duplexer for hassle-free two-sided printing. The lid for the scanner telescopes to accommodate thicker material.
The Pixma MG4120's output is about the same quality as what you see from other Canon Pixma MG-series printers–that is, quite good. Text is sharp, if not laserlike. Color graphics have an orange skew that can make faces look spray-tanned, but the tint also makes for warm-feeling landscapes and still-lifes. Photo details are nicely rendered.
Speed is good for everyday tasks and the odd photo. In our tests the Pixma MG4120 printed text pages at 6.5 pages per minute on the PC and 7.1 ppm on the Mac. Snapshot-size photos printed at 2.6 ppm on plain paper, and at 1.2 ppm on photo paper. Color PDF pages and full-page photos printed on the Mac took twice as long as the average. Scans and copies at normal and higher resolutions were decently fast. And, in case you were wondering, the Pixma MG4120's performance falls right in line with the numbering convention of the MG series–it's faster than the MG2120 and MG3120, and slower than the MG6120 and the newer MG5220.
Similar to its brethren, the Pixma MG4120 has higher-than-average black-ink costs. The PG-240XL Extra Large black cartridge costs $21 and lasts for 300 pages, or 7 cents per page. The $38, 600-page PG-240XXL black cartridge reduces costs only slightly to 6.3 cents per page. Color, on the other hand, is relatively cheap. The unified-color CL-241XL costs $30 and lasts for 400 pages, or 7.5 cents per page. A four-color page using the PG-240XXL and the CL-241XL would be 13.8 cents, about average in cost for an inkjet MFP. Note that with a tricolor cartridge (containing cyan, magenta, and yellow), when one color runs out, you have to replace the entire cartridge even if ink remains for the other colors.
If you're looking for alternatives with lower black-ink costs, both the HP Photosmart 6510 e-All-in-One ($150) and the Brother MFC-J625DW ($130) are worth considering. However, the Pixma MG4120 is otherwise every bit as competent, and it's decently inexpensive for mixed-color pages and photos.