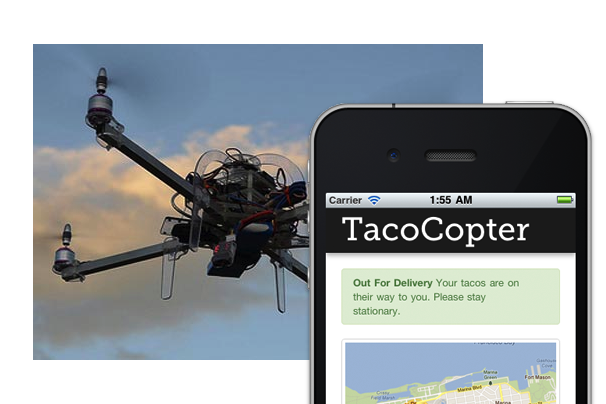 We at GeekTech love ourselves some quadrotors. We also love ourselves some delicious tacos, so when you can find a way to combine the two, well, you've got our attention. As its name suggests, TacoCopter is a new service that claims to let you order tacos online, and have them delivered to you by way of a quadrotor helicopter. An unmanned robotic quadrotor, that is.
If this is a real thing, holy carp.
According to the (very basic) TacoCopter website, you can order tacos using your smartphone, though it's unclear whether or not TacoCopter uses a native app or a smartphone-friendly website to accomplish this. TacoCopter is currently in private beta, and is currently only for those of us in the San Francisco Bay Area.
We don't know if this is for real, how long it takes an order to arrive, or–most importantly–whether the tacos are any good, but we're intrigued. It's hard to not be at least a little skeptical, though; I imagine there are all sorts of logistical issues that would have to be figured out for something like this to work. If it is real, though, and if we get a chance to try it out, we'll let you know how it goes.
Food delivery by flying robots: Good idea or bad idea? Leave a comment. And if you've done something ridiculously awesome with quadrotors or something similar, why not tell us about it?
Update, March 23: As we kind of suspected, TacoCopter isn't an actual service. Wired caught up with Star Simpson, the person who dreamed up the idea, who explained that it's just a concept. Still, don't let that stop you from picking up an AR.Drone, attaching a bag full of tacos to it, and flying it around your back yard!
Like this? You might also enjoy…
Get more GeekTech: Twitter – Facebook – RSS | Tip us off