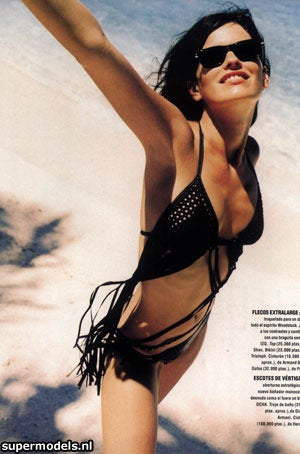 A law passed Monday in Israel requires publications to disclose when models have been Photoshopped to appear thinner and bans ads from using underweight models, or models with a Body Mass Index (BMI) of lower than 18.5.
The law was first proposed March 5 and attempts to keep the fashion industry in check. Supporters hope that the new law will encourage the fashion industry to use healthy models, according to the Wall Street Journal. The law applies to both male and female models.
"We want to break the illusion that model we see is real," Liad Gil-Har, assistant to the law's sponsor Dr. Rachel Adato, told the Associated Press.
Models would be required to produce medical reports that state they aren't malnourished (according to World Health Organization standards). According to WHO, anyone with a BMI below 18.5 indicated malnutrition. This means that a woman who is 5 feet, 8 inches must weigh at least 119 pounds.
However, critics of the legislation disagree with BMI as an indicator of malnutrition, since BMI only takes into account height and weight–not muscle mass or even sex. Some people can be healthy, naturally thin, and have a BMI under 18.5, while others may be very muscular and fit and have a BMI that indicates they are overweight or even obese. For example, a guy who is 6 feet, 1 inch and 190 pounds is considered "overweight," even though many guys at that height/weight are definitely not overweight.
Israeli model Adi Neumann, who has a BMI of 18.3, thinks the law is a good idea, but that it should focus on health, not weight.
"The purpose is very worthy. I saw people around me deteriorating. At the same time, it is important to look not only at height and weight, but also at general health, and fat and muscle percentage," Neumann said in a statement.
This may be the first legislation attempting to regulate the fashion industry, but it's not the first time underweight models have been frowned upon. In 2006, Giorgio Armani was the first premier designer to ban models with a BMI of under 18 (and/or a size 0), after the death of Brazilian model Ana Carolina Reston. Reston died on November 15, 2006, of anorexia. She was the second model to die of an eating disorder in 2006 — Uruguayan model Luisel Ramos died on August 2, 2006.
Other major designers have since banned the use of size 0 models, including fashion houses Prada and Versace.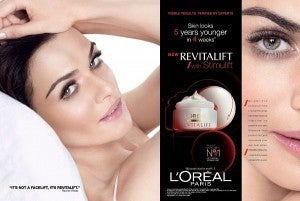 The law is pretty cut and dried (perhaps too much so, say the critics) about models' actual weights, but less clear when it comes to disclosing digitally-altered photos. After all, if a publication adds a little definition to a model's abs, is it the same as making a 200-pound girl into a 115-pound girl? Does the publication still have to say it Photoshopped the pic, or can it scoot around the law?
Earlier this year the United Kingdom's Advertising Standards Authority did ban a Photophopped ad of the actress Rachel Weisz who appeared in a print ad for cosmetics firm L'Oréal. UK authorities contended that the ad was misleading, because the image of Weisz had been digitally manipulated and misrepresented the results that the "anti-aging" moisturizing cream product could achieve. The ad was banned and L'Oréal Paris had to promise not use "post-production techniques in a way that misrepresented what was achievable using the advertised product."
Follow Sarah on Twitter, Facebook, or Google+, and and Today @ PCWorld on Twitter.