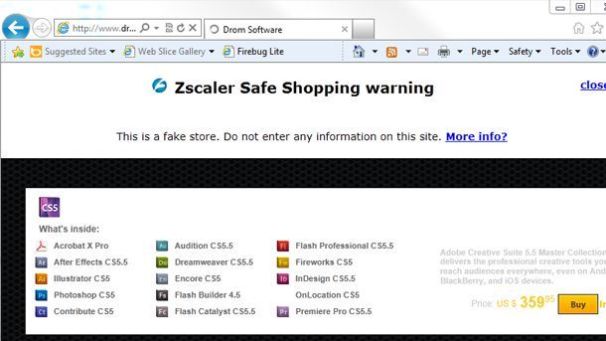 Suppose you're in the market for a Turbo Widget 9000. You do a little Web searching and discover that Widget Specialities Unlimited sells it for $50 less than everybody else. The online storefront looks a little wonky, but, hey, you got here via Google, so it must be okay, right?
Wrong. Hackers routinely create fake stores, and sometimes even compromise real ones in order to steal customer data. How can you protect yourself against these kinds of threats?
One option: Install Zscaler Safe Shopping, a browser plug-in that warns you about fake and compromised onilne stores. (Note: That link takes you to the newly released Internet Explorer version. Safe Shopping is also available for all other browsers, as described in this Zscaler blog post.)
Once installed, the plug-in relies on a continually updated list of bad domains. If you happen to visit one of them, you'll see a warning, so you know to steer clear.
It's kind of like my perennial favorite Web of Trust, but with a focus on shopping.
And it's worth noting that even if you have a robust security suite installed on your PC, it's not likely to detect a fake or compromised Web store. This is a free and easy way to get some added piece of mind before you plunk down you credit card (virtually speaking).
Contributing Editor Rick Broida writes about business and consumer technology. Ask for help with your PC hassles at hasslefree@pcworld.com, or try the treasure trove of helpful folks in the PC World Community Forums. Sign up to have the Hassle-Free PC newsletter e-mailed to you each week.