Facebook is getting attention in Washington again as two U.S. senators seek federal investigations of recent reports of employers demanding job applicants turn over the passwords they use to log in to the social networking site.
Sen. Charles Schumer, D-New York, and Sen. Richard Blumenthal, D-Connecticut, said Sunday they will ask the Justice Department and the U.S. Equal Employment Opportunity Commission to look into the matter. They argue that the practice is objectionable, according to an Associated Press report.
The lawmakers want the agencies to determine if requesting social media passwords by employers violates federal laws that protect unauthorized access to data, notably the Stored Communications Act or the Computer Fraud and Abuse Act, the report said.
The development comes on the heels of Blumenthal's vow to file legislation to address the issue.
Facebook, too, has expressed concern about the practice and pledged to work with policymakers to address it, as well as engage in legal action where necessary.
"While we will continue to do our part, it is important that everyone on Facebook understands they have a right to keep their password to themselves, and we will do our best to protect that right," Facebook's Chief Privacy Officer for Policy Erin Egan wrote in a company blog.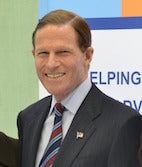 While Blumenthal and Schumer are spearheading initiatives on the national level to address the password issue, legislators on the state level are also moving to protect social network users.
Both Maryland and Illinois are considering bills to bar public agencies from asking for social networking passwords.
In New Jersey, Assemblyman John Burzichelli has filed a measure that takes a broader approach to the problem. It prohibits all employers "from requiring a current or prospective employee to provide or disclose any user name, password or other means for accessing a personal account or service through an electronic communications device."
Meanwhile, in California, Democratic state Sen. Leeland Yee has also filed a bill to block employers from not only requesting social media user names and passwords from employees or job applicants, but also bar bosses from asking for a sit-down with employees or applicants to review their social media pages or asking that the pages be printed out for review by managers.
Follow freelance technology writer John P. Mello Jr. and Today@PCWorld on Twitter.