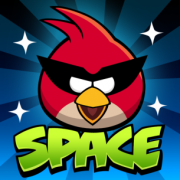 Fans of Angry Birds Space downloaded the game 10 million times in less than three days after launching Thursday for Android, iOS, Mac and Windows, Game maker Rovio said Monday. Angry Birds Space is the fourth version of the popular mobile slingshot game and the first new game since Rovio introduced Angry Birds Rio in March 2011. Pricing for Angry Birds Space ranges from $0.99 for iOS and a new ad-free version for Android up to $6 for Windows PCs.
Despite offering 60 new levels at launch, some users are already begging for more after finishing the latest pig-smashing fest over the weekend. Rovio game maker is promising new free levels will be coming to users in the near future, but the free updates are not quite ready for release yet. The latest version of Angry Birds not only changes location, but adds entirely new ways to play the game accounting for space faring issues such as gravitational fields and orbital trajectories.
SPOILER ALERT!
Angry Birds Space also adds a few fun touches such as (what I assume to be) wormholes that transport you out of the regular Angry Birds Space quadrant and into hidden levels that are homages to classic video games such as Space Invaders, Super Mario Bros., and Breakout.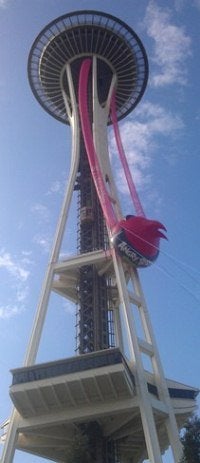 Despite a big launch that included massive download numbers and a big ol' angry bird attached to Seattle's Space Needle, Angry Birds Space appears to be frustrating some users. A number of gamers are complaining of continual crashes on iOS devices such as the iPod Touch (4th generation), and, as I reported on Thursday, the original iPad. Rovio's current advice for anyone experiencing crashes with the new game is to reboot their device. In my tests, the reboot did the trick and I have been happily hurling birds across the vacuum of space ever since.
To reboot an iOS device press and hold the sleep/wake button at the top of the device until you see a slider that says "slide to power off" and then slide your finger across the button. You turn your device back on by pressing and holding the sleep/wake button again until the Apple logo appears.
Connect with Ian Paul (@ianpaul) on Twitter and Google+, and with Today@PCWorld on Twitter for the latest tech news and analysis.