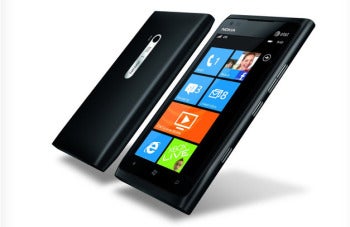 The Nokia Lumia 900's long journey to the United States is nearly finished, with AT&T confirming an April 8 release date and $100 price tag for the stylish Windows Phone.
AT&T confirmed the Lumia 900 launch details, including the $100 on-contract price, that has been rumored for some time. With most high-end smartphones selling for $200 and up, Microsoft and Nokia are banking on the Lumia 900's lower price to finally get some mainstream attention in the United States. The two companies formed a partnership to produce Windows Phones in early 2011, and so far Nokia has launched the Lumia 710 on T-Mobile and the Lumia 800 outside the United States.
The Lumia 900's standout feature is its design. The phone is built around a single slab of plastic called polycarbonate, which almost has a metallic feel. It's larger than the Lumia 800, with a flat 4.3-inch AMOLED display instead of the Lumia 800's 3.7-inch convex glass display.
Other specs include an 8-megapixel camera with Carl Zeiss optics, a single-core 1.4 GHz processor, 16 GB of storage a 1-megapixel front-facing camera, 512 MB of RAM and an 1830 mAh battery.
Along with the Lumia 900, AT&T also announced that it will launch the HTC Titan II on April 8 for $200, making them the first 4G LTE Windows Phones.Still unclear, though, is how much battery life users can expect with LTE turned on. LTE networks can be roughly 10 times faster than 3G, but they've been battery killers, both on AT&T and Verizon Wireless.
To market the Lumia 900 and other Windows Phones, Microsoft and its partners will reportedly spend roughly $200 million in 2012, according to Paul Thurrott. For now, Microsoft is running a "Smoked By Windows Phone" campaign in its handful of retail stores, where users are challenged to perform everyday tasks faster on their own non-Windows Phone handsets. Expect a lot more advertising once Nokia's Lumia 900 hits U.S. shores.
Follow Jared on Twitter, Facebook or Google+ for even more tech news and commentary