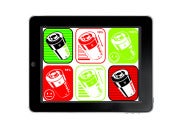 Apple needs to immediately fix the new iPad's battery charging algorithm, or it may have to replace batteries for all users, a study by DisplayMate Technologies warns. The new iPad's battery needs an extra hour of charge after it shows it is fully juiced in order to get the maximum life on a charge. But this could damage the longevity of the battery, Apple said, so what are users of the new iPad meant to do?
In a segment for CNBC, Apple countered findings from Dr. Raymond Soneira of DisplayMate Technologies which indicate the third-generation iPad continues to draw 10 watts of power for about an hour, even after iOS claims the battery is done charging — meaning when the battery indicator says 100 percent, it is actually only 90 percent charged and you would get 1.2 hours less running time.
Apple reportedly said that when the new iPad charge indicator reads 100 percent, it's actually full enough to give you the 10-hour performance that they promise in their marketing. Apple also warned that if you charge it more than that, you could harm the longevity of the battery.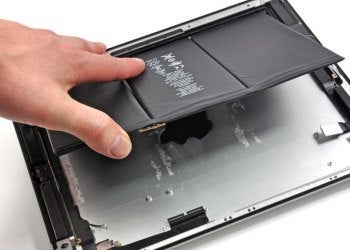 How Can This Be Fixed?
But Soneira believes Apple has a problem on its hands. Apple's reply indicates anyone charging their iPad unattended or overnight would get the extra charging time required to fully juice the battery, as found by his study, but also risk ruining the battery of the tablet in the long run, as Apple claims.
He believes the problem is Apple's to sort out, rather than users charging up their new tablet overnight and not taking care to unplug it the moment it says it is fully charged.
"Damaging the longevity of the battery is then exactly what the new iPad's internal battery charging hardware and software are doing since it is (Apple's) responsibility to properly control and manage the battery recharging process," Soneira wrote in an update to his initial findings. "It's pretty obvious that if the new iPad knows that it is fully charged then it should automatically stop the charging."
He suggests Apple "needs to immediately fix the iPad battery charging algorithm or (Apple) may be held responsible for replacing all iPad batteries," because "this is just simply an issue of correcting the on-screen battery indicator so that it matches and agrees with what the battery charging hardware and software actually do."
Follow Daniel Ionescu and Today @ PCWorld on Twitter
Note: When you purchase something after clicking links in our articles, we may earn a small commission. Read our affiliate link policy for more details.