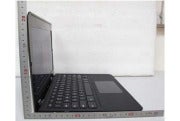 Sony is working on producing a slim, ultraportable laptop running Google's Chrome OS, according to documents filed with the FCC. That's right, a Chromebook. Remember those?
It's been nearly a year since Google announced its partnership with Acer and Samsung to sell Chromebooks. Chromebooks, in case you've forgotten, are lightweight, instant-on "browser-in-a-box" netbook-like devices, affordably priced at around $300 to $400. So far, only Acer and Samsung have made them, however, and there are only a few Chromebook models to choose from.
The Sony VAIO VCC111 Series, revealed at the FCC (spotted by Laptop Reviews), should offer you at least one more choice.
According to the filed documents, the upcoming VAIO Chromebook will sport an 11.6-inch screen produced by Samsung. This makes it the same size as the Acer Chromebook. Like the Acer, the VAIO also has an HDMI port (an advantage both Chromebooks have over the Samsung Series 5 Chromebook), as well as your usual ports and connectivity options: two USB ports, a SD card reader, headphone and microphone jacks, Bluetooth, and Wireless-N.
The rest of the details are still speculation. A sticker on the bottom of the laptop says "T25," which could suggest an Nvidia Tegra 250 T25 ARM processor–making the VAIO Chromebook the first to launch without an Intel Atom-based processor. This might give the Sony Chromebook an edge when it comes to battery life.
Also up in the air is the amount of memory and storage space on the VAIO Chromebook. If it's similar to the Acer and Samsung Chromebooks, the Sony will likely come with 2GB of RAM and 16GB SSD storage.
It's interesting that Sony has chosen to invest in Chromebooks when the hot laptop trend these days is Ultrabooks, but perhaps this little cloud-based VAIO will help revive the Chromebook market and prove, finally, that Chromebooks aren't flops.
Follow Melanie Pinola (@melaniepinola) and Today@PCWorld on Twitter