Desktop search? That's so last decade. Today, we've gone mobile–and so have search leaders Bing, Google, and Yahoo. In this active age, we're just as likely to turn to our smartphone to find what we want as we are to boot up our PC. And though many people consider Google the king of desktop search, things are not so clear-cut when it comes to mobile search, in part because delivering relevant blue links is only one aspect of a great mobile search experience.
Mobile search is demanding. It's about navigating small screens; working with always-on, location-aware devices; handling speech input; and accomplishing a task. As users, we tend to have zero tolerance for irrelevant search results as we wait in line at Starbucks and search for movie show times. And when our phone finds a movie time, it had better deliver reviews, GPS coordinates to the closest theater, and an option to buy tickets.
Mobile search is clearly on the rise. Google reports that more than 15 percent of queries its search engine receives come from mobile devices, and at Yahoo that number rises to 20 percent of global searches. Mobile search isn't something we use only while on the go, either: Many people use their mobile devices alongside or in place of their computers. According to a 2011 study by Performic, a marketing agency, 32 percent of people use mobile search more than computer-based search.
So, how do Bing, Google, and Yahoo's Android mobile search apps fare against each other? In a highly unscientific comparison, we tested these leading mobile search apps to see which one would work best.
To test the apps we created queries designed to mimic the way people use search on their smartphones–conducting general searches, requesting shopping searches, and trying to locate nearby places of interest. To get started, we downloaded three mobile search apps–Bing, Google Search, and Yahoo Search for Android–to our Android phone.
Read on to see how they stack up.
Interface, Tools, and Navigation
Bing's Beauty
Bing's appeal is obvious from the moment you launch the app: Its full-screen interface is gorgeous. The app highlights the same image of the day on the desktop version of Bing. A list of search options runs down the screen, allowing you to choose from among images, videos, maps, local, deals, movies, news, shopping, and directions. Clicking on an option pulls up another attractive screen, which is prepopulated with info and links associated with the option that you might find interesting. The images screen, for example, displays thumbnails of images related to Bing's image of the day, while the videos screen shows links to Bing's video picks of the day.
Every Bing screen includes a search query bar at the top. You can enter a query by typing it, or you can press the microphone icon and then enter the query by voice. Bing's voice recognition software worked flawlessly (as it did on the Google and Yahoo apps as well). Once you begin typing, Bing automatically pushes you to its search page, which displays suggestions as you type. This text-heavy page lacks the visual grace notes that Bing sports on its other pages. Your search results reflect the page from which you launched your search: If you start on the video page, you'll see video results; and so on. Searches launched from the home page return a general group of results, and you can switch between the various sections by means of a sliding bar that appears at the top of all pages.
Overall Bing was most notable for delivering a slick, intuitive mobile search interface.
Favorite interface: Bing. With its mix of beauty and intuitive navigation, Bing looks great and is easy to use, too.
Google's Businesslike Approach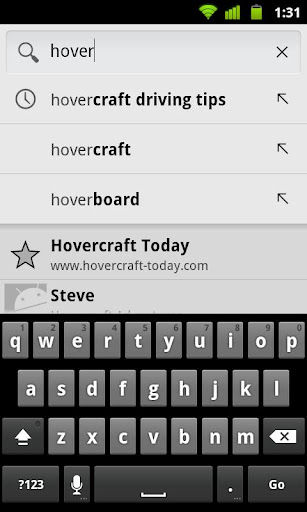 Google's mobile search app is as spartan as they come. Its interface consists primarily of a search query bar and a blue-and-white "G" logo. As you begin using the app, your search history will appear in the text fields below the query bar, which is useful if you tend to run the same searches repeatedly–especially if you need to do so while on the go. But don't experct to be wowed by the aesthetics.
Fortunately, what Google's mobile search app lacks in looks, it makes up for in functionality. This excellent search tool integrates local results (what Google calls "Places"), images, news, videos, shopping, finance, apps, maps, books, and more. Rival Bing offers plenty of categories, too, but Google goes several steps farther, letting you search a host of Google services, including Docs, contacts, Blogger, iGoogle, Earth, Books, and Googles. The app pulls search results from multiple sections, depending on the content of your query; and if you don't like what you see, you can switch to another section–such as shopping, finance, or maps–by using Google's tabbed interface. The tabbed interface works well, but it can't match the fluidity and elegance of Bing's similar sliding bar.
Most varied search sources: Google's ability to draw results from the Web, from your phone, and from various Google services makes this a complete search tool that can deliver comprehensive results.
Plain Old Yahoo
Yahoo's mobile app is something of a mix between Bing's and Google's. Microsoft Bing powers Yahoo's search results, so it's no surprise that many of the results you see on the two apps are the same. But Yahoo offers nothing comparable to Bing's elegant design, instead featuring q Google-style businesslike interface, with a search query bar taking top billing. Rather than showing your search history, though, Yahoo's home page displays trending topics; you'll see your search history when you begin to type a query.
Like Google's, Yahoo's results include a general mix of information, depending on the content of your query. You'll see Web links, local businesses (when appropriate), and images. The site also includes news results and displays embedded maps, as rivals Bing and Google do, but it pushes you to an external app when you need directions. On my Verizon-based Android phone Yahoo let me choose between Google Maps and VZ Navigator when seeking directions. The app lets you set a default choice so that you won't have to make the choice each time you need directions. Bing succeeded in opening maps within the app, while Google Search pushed me right to Google Maps.
Most room to improve: Yahoo's mobile search app pales in comparison to Bing's and Google's. It lacks the visual appear and fluid interface that Bing sports, and it can't compete with Google's varied sources of information.
Local Restaurant Search
The Yahoo app's interface may be plain, and it may lack many of its rivals' extra search options, but it definitely excels in one area: finding top-notch local restaurants. We used the three mobile apps to search for restaurants, using queries such as 'best mexican restaurants' and 'best italian restaurants boston'.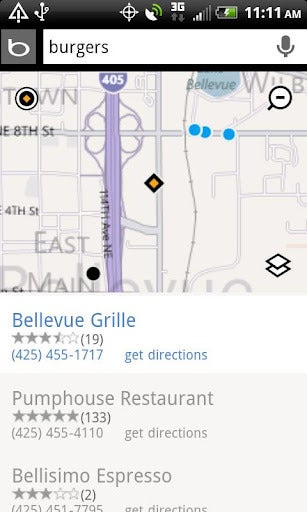 When we omitted a city name in the query, all three apps defaulted to showing us general Web results–and none of the first results were local. The top results for our Mexican restaurant query led us to information about eateries in Dallas, Los Angeles, and Chicago, for example (searches were conducted in Boston, MA) without signing into user accounts.
Both Bing and Google did supply local results in their search results, but only after we scanned through the top national results. Yahoo fared even worse, forcing us to scroll all the way to the bottom of the page before we found anything nearby–and even then we had to click a link to get the information we wanted on local businesses. But taking the time for those extra clicks proved worthwhile, as Yahoo's local results bested its rivals': The Yahoo mobile app was the only one of the we tested that actually recommended the restaurants closest to our current location, and it offered an excellent set of options, too.
When we included the city name in our query, all three search engines defaulted to show local results, using our current location as detected by the phone. On all three apps, we clicked to focus our search on local results, and were able to view restaurants by location and to read user reviews. Bing and Google added a multitude of options, such as searching by location, refining the search by category, and linking to additional categories, such as bars and nightclubs, that might be part of a complete night on the town. In our search for the best restaurants close by, however, Yahoo again came out on top, recommending top-notch restaurants that were very near our current location.
Favorite local dining companion: Yahoo.
Local Movie Search
Yahoo didn't fare as well when it came to finding movie showtimes and tickets for the Universal Pictures movie Dr. Seuss' The Lorax. We used all three apps to search for 'the lorax tickets', but were disappointed with the results.
The mobile Bing app's movie search reported that it couldn't find any results for that query; however, its Web search returned links to MovieTickets.com, where we could buy tickets after several clicks. Yahoo's lackluster results were on a par with Bing's. Google fared slightly better: It recognized that I was searching for information about The Lorax movie, and delivered a list of theaters and showtimes. Still, I had to click several times before I could buy tickets.
Refining the query to search for 'the lorax showtimes' delivered better results. This time all three apps recognized that I was searching for information about a movie. Yahoo's results focused on the movie itself, and as a result I found information about the cast and the director before seeing any information on local theaters or showtimes. Google and Bing, meanwhile, excelled on this search: Both apps delivered a page with information about the movie, local theaters, and showtimes. Bing gained a slight edge overall with its more attractive interface and its ability to tell me exactly how many hours and minutes I had until the next show.
Favorite movie buddy: Bing.
Shop, Shops, and Shopping
Yahoo's shopping capabilities failed to impress, which isn't surprising when you consider that it was the only mobile app of the three we tested that doesn't include a dedicated shopping feature. But Bing, which highlights its deals and shopping sections, stumbled here, too. We tested the apps by submitting queries that included product names, such as 'iphone 4s prices' and 'just dance 3'. In both of those instances, Yahoo's results didn't include any shopping information, instead offering news articles and basic Web links related to the products.
Bing and Google recognized that we were searching for products. Though they included some more-general information on the products, both apps were able to direct us to links where we could buy the items in question. However, Bing's focus was more on online search than offline: it offered plenty of links to online retailers, and made it easy to compare prices across different sites. In contrast, Google pointed us to local retailers that had the products in stock, allowing us to compare prices and get driving directions to the store. Our Bing search for Just Dance 3, for example, returned no local results, and its shopping results pointed only to online retailers. The same search on Google pointed us to 22 nearby retailers that had the video game in stock, with prices and directions to each.
Shop local favorite: Google.
Searching for a Winner

Our tests revealed what many of you may have suspected all along: No search app is perfect–or even better than the competition at everything. Relying on a single search app or search engine for all of your queries isn't necessarily the smartest way to go, though it may be the easiest. But with so many search apps and services out there, why pick just one?
Using the mobile Bing, Google, or Yahoo app for all of the different types of searches you conduct is like buying everything you need at the mall. Sure, you might be able to find everything you need, but sometimes you'll be better served by visiting a specialty shop. That's when a restaurant search engine, like Restaurant Finder, or a shopping app, like Red Laser or Milo Local Shopping, can be just what you need.
There's certainly no shortage of mobile apps available. And the abundance of options is just one of the perks of mobile apps. Another is the fact that their makers are constantly updating them. That means the search that delivers less-than-helpful results today could prove fruitful tomorrow. Or so we can hope.