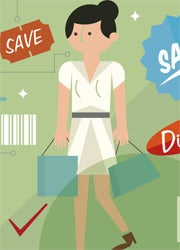 Deals are to be had online–but before you put any money down, consider using some tools to snag even better bargains.
At the Woot.com website you can find daily deals on an item chosen from several different categories, from tech to toys. WootWatch for iOS and WootWatcher for Android bring Woot's deals of the day to your phone, so you can peruse on the go. Or, if you're more of a brick-and-mortar shopper, consult Scoutmob for daily deals of 50 percent off or more from businesses in your area; it's like Groupon, but you don't have to pay in advance for the deals.
Although it's still in private beta at this writing, keep an eye out for OpenLabel, a mobile app that lets you scan a product's bar code and see user comments on whether you should buy or avoid that product. If security is your number one goal as a tech-savvy shopper, consider downloading the recently launched Dashlane; this desktop app stores your personal information securely online and automatically enters it as you check out, so you can avoid all the hassle of signing up for new accounts. Or, for a more DIY security approach, use AnchorFree's Hotspot Shield, a downloadable utility, to hide your IP address and lock down any personal information that you provide online with HTTPS encryption.