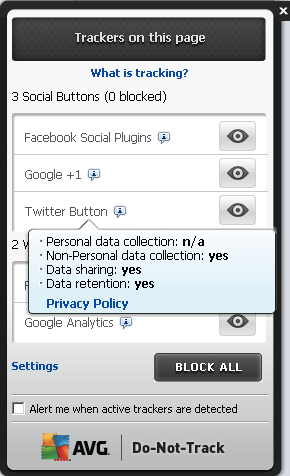 If the recent debates around the Federal Trade Commission's call for a Do-Not-Track tool have you concerned about online privacy, computer security firm AVG recently announced a new do-not-track feature for Windows. AVG's new tool is available to users of its free and paid security products as a free update. New users can get the tool by downloading AVG Anti-virus Free Edition, and then running a program update to get the new do-not-track feature. The new tool works as an add-on with Internet Explorer, Mozilla Firefox and Google Chrome browsers.
What AVG Do-Not-Track Does
AVG's do-not-track feature actively seeks out tracking cookies on your browser and alerts you when a site attempts to set a tracking mechanism. When it finds a tracking cookie, the anti-tracking feature will tell you whether it's a tracking cookie from an ad network, a "social button" such as Facebook's Like button and Google's +1, or a Web analytics cookie.
[RELATED: Most Consumers Clueless About 'Do Not Track' Technology]
AVG's tracker summary also includes information pulled from the privacy policy of the website setting the tracker, as well as a link to the privacy policy and to any tracking opt-out options if available. Collating this information allows AVG to tell you whether any data the tracking cookie collects is anonymous or personally identifiable, how the collected data is retained by the tracking company and whether any data is shared with third parties.
The Next Big Thing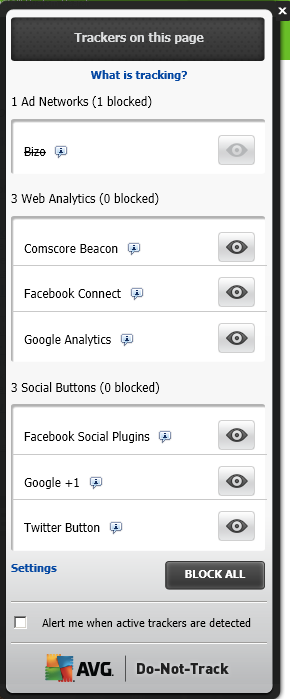 Effective do-not-track tools appear to be the next big opportunity for security companies and browser makers looking to gain users. Online privacy company Abine recently released a browser add-on called Do Not Track Plus for Chrome, Firefox, Internet Explorer, and Safari. The app is designed to block advertising companies and social networks from gathering personal information about your browsing habits through online tracking. Abine claims its program can also decrease page load times fourfold. Abine originally released the program in 2011 solely for the Firefox browser.
Mozilla is also working on do-not-track features for its desktop and mobile browsers, and recently released a security-focused extension called Collusion. Although it currently doesn't allow you to block online tracking, Collusion shows you a visual graph of every site you visit and how many tracking cookies each site sets. It also highlights when two or more sites use the same tracking cookie such as one from Google's DoubleClick online advertising company. Microsoft in 2011 also introduced a do-not-track feature for Internet Explorer 9.
In addition to Do-Not-Track, AVG's latest update includes a new feature called Wi-Fi Guard that alerts you whenever your computer attempts to connect to an unsecured wireless network for the first time.
Connect with Ian Paul (@ianpaul) on Twitter and Google+, and with Today@PCWorld on Twitter for the latest tech news and analysis.