Harry Potter author J.K. Rowling has finally released the long-awaited e-book versions of her endlessly popular series. All seven novels are available for e-readers, tablets, phones and so forth in English, with other language versions set to follow shortly.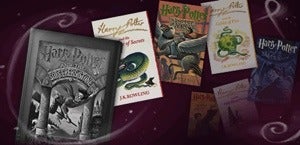 The first three books cost $7.99 each, while the last four, which are considerably longer, cost $9.99 a piece. If you want the whole series, the site offers a 10 percent discounted bundle pack. You can also grab the audiobook versions, read by Jim Dale, though those had been available for years through sites like Amazon or Apple's iTunes store.
Pottermore, Rowling's official Harry Potter site, opened in beta last July. When Rowling unveiled Pottermore last June, she made it clear she was reining in e-distribution rights (to the indignation of e-book and audiobook resellers everywhere). Pottermore was due to go live last October, but missed its launch, and the beta was extended through March. The site is finally due to open to the public early next month, but the Harry Potter e-books and audiobooks are available now from the Pottermore Shop section of the site.
Rowling's move to sell through her site directly means that she'll keep most of the profits, a victory for pro-artist-rights advocates, though with a fortune estimated at more than $1 billion, Rowling is worth considerably more than several of the e-tail companies she's left out in the cold.
It's not a total shutout: According to the Wall Street Journal, Rowling has struck deals with retailers like Amazon and Barnes & Noble. If you purchase the books through links from those sites as well as others, each e-tailer takes their cut, and you'll be able to download the books direct to devices like the Kindle, Nook and Sony Reader.
The only major e-tailer with whom Rowling has yet to strike a deal is Apple, with its iBookstore. This comes as no surprise because if any company rivals Rowling's need for total control of every last creative and financial detail, it's the one Steve Jobs built.
Matt Peckham writes for TIME and PCWorld. You can find him on Twitter, Facebook, or Google+.