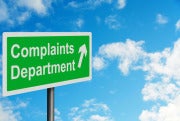 When you walk into a store to ask a question, you don't expect the clerk to ignore you (though, admittedly, it happens). When you interact with a company online, you don't expect them to ignore you either. But boy, does it happen–especially on what is perhaps the most engaged online community, Facebook.
To quantify how frequently it does happen, StellaService, a New York City-based company that rates online customer service, chose 20 companies of various characteristics. StellaService hired individuals to post comments on the Facebook pages of those companies and then watched what happened. According to an article–Retailers Still Defining Customer Service on Facebook–posted yesterday on StellaService's site, "Of the 20 retailers measured, five failed to respond to a question posted on their wall within two days. Meanwhile, seven retailers removed the question from their wall, hiding any record that a consumer had a question."
This isn't rocket science. In fact, Facebook has gone to great lengths to teach companies best practices regarding using the community for its interactive media. The blog cites a Facebook-sponsored Forrester report from late last year that found "76% of marketing professionals surveyed agreed that social media is important for brand building and 72% agreed that it is important for customer loyalty." Facebook also offers a white paper for best practices titled "Social Business Blueprints."
Those practices are being ignored, as are the user comments. Of the 20 companies, five failed to reply to a wall post within 48 hours. Thirteen didn't respond to questions posted in the comments section of their own posts, indicating that nobody is monitoring customer responses in that area as well.
Guidelines for Companies
StellaService CEO Jordy Leiser offered PCWorld these guidelines for managing consumer expectations. These are the capabilities Leiser says consumers should look for.
The company should have staff assigned to exclusively respond to questions on social media platforms. Social media should be like the telephone; if the company doesn't answer the query in two minutes, move on.
If a company uses chat, there should be a response during posted customer service hours. If you get a canned reply that chat isn't available, the company isn't committed to customer service.
Look for companies that already have a strong commitment to customer service, like Nordstrom or Williams-Sonoma. "If a company is service-obsessed, they're going to bring that into their online culture," Leiser said. "If they think of social media as a second- or third-tier communications channel, they'll get to it when they have time."
Look for a company that promotes interaction on its Facebook page. "A lot of big brands use Facebook for one-way messaging, but it's really two-way social media. The new redesign includes a private message feature that doesn't clutter the page but lets consumers contact them."
Look for transparency. If sensitive posts disappear, the company is losing the opportunity to share information with its customers. Leiser cites the example of Crutchfield, the mail order consumer-electronics company. "If someone posts a question, Crutchfield wants everyone else to know they're working on an issue."
See whether the company manages expectations. Just as you're informed on the phone that you can expect to wait a certain amount of time, you should be made aware when to expect a response. "A customer is usually already upset when they start talking to a company, so expectations and reality should be aligned up front."
In the future, said Leiser, the most transparent companies will figure out a way to move customer service queries to an FAQ somewhere, whether on Facebook or on its own Web site. Leiser cites companies such as Get Satisfaction and Parature that are working on Facebook plug-ins for this purpose.
In the end, though, technology doesn't matter. If you have a question or a problem–even in a global 24/7 world–you want a human being to be able to help you the same way you would have approached a clerk in a general store a century ago. That's how companies build relationships with consumers, no matter what technology is involved.