At a Glance
Expert's Rating
Pros
A myriad of connectivity options
Very powerful without overkilling on price
Cons
No media card readers
Still rather pricey
Our Verdict
Digital Storm's ODE Level 4 offers blistering speed, but doesn't come cheap.
Digital Storm has released another iteration of its ODE desktop, the ODE Level 4. At $3499 (as of March 27, 2012), the price tag rivals those of most of the top performance desktops–but does this PC have the chops to rank among the best? According to our tests, it does.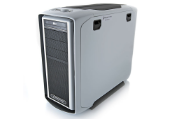 The Level 4 carries a lightning-fast Intel Core i7-3930K CPU that runs at 4.6GHz, as well as 16GB of DDR3 RAM. This system flew through our WorldBench 6 benchmark, earning an impressive mark of 213. In comparison, the original Digital Storm ODE posted a score of 198 in July 2011. The quicker processor and generous amounts of RAM allowed the ODE Level 4 to breach the 200 mark.
Using two AMD Radeon HD 7970 graphics cards in CrossFire, the ODE Level 4 achieved some stunning scores on our graphics benchmark tests. Running Crysis 2 and Dirt 3 at 2560-by-1600-pixel resolution, on Ultra settings, the system managed an average of 71.9 frames per second on the former and 108.5 fps on the latter–admirable scores on those graphically intensive games.
Speedy performance is coupled with speedy storage: The included 120GB solid-state drive cuts boot times and revs up applications and games. For everything else, the ODE Level 4 offers a 1TB 7200-rpm hard drive. That amount of storage may not satisfy the most hard-core users or media enthusiasts, but it's a great start.
The system includes a Blu-ray rewriter for ripping and burning DVDs and Blu-ray discs, but media lovers won't find much else here that's enticing. The PC lacks a card reader, too, but it has plenty of room for you to add one.
With a total of seven USB 3.0 ports, eight USB 2.0 ports, two eSATA ports, and a FireWire port spread out over the case, you will not want for connectivity options. You'll also find two DVI ports, two mini-HDMI ports, and four mini-DisplayPort connectors between the two graphics cards.
The ODE Level 4's case resembles that of its predecessor, but retains the same positive aspects. The exterior is a glossy white with rounded corners, a unique look. The abundant fans all over the case keep the interior cool and functional, yet they aren't especially loud. The processor comes equipped with a Corsair liquid cooler, which feeds into yet another fan on the top. A few interior lights give the case a soft red and white glow, lending the machine a bit of style without being obnoxious.
Speaking of interiors, the inside is clean and organized, with plenty of room to tinker. Two spring-loaded latches allow easy, tool-free acess. The two graphics cards take up most of the motherboard space, but two PCI slots are still open in between, if you can manage to fit anything between the CrossFire link. Only three of the internal bays are occupied, leaving three open exterior bays (for adding, say, extra media devices) and four interior hard-drive bays. It is also worth noting that only half of the DIMM slots are occupied, which leaves room for more RAM if needed.
The ODE Level 4 also offers two gigabit ethernet ports, Wi-Fi, and Bluetooth. Getting online and connecting your devices could not be easier.
As for how the ODE Level 4 stacks up against other recent performance PCs, it tops the Polywell Ignition X7900i-3960, which earned a score of 206 on our WorldBench 6 benchmark; it's also $1000 cheaper than the Ignition (which was $4599 at the time of our review). The ODE Level 4 has a bit less RAM and only one SSD (in contrast to the Ignition's pair), but ultimately it's a little more cost-effective.
The Digital Storm ODE Level 4 is a clean, quiet, and powerful machine. It's unfortunate that this PC's price tag exceeds many people's budgets; if you're looking for a better bargain, you can find options on our Top 10 Performance Desktops chart that offer comparable power at a palatable price. But if you have a little extra cash to spend, the ODE Level 4 is an attractive powerhouse, and a solid choice.