The network-attached storage (NAS) box–an external storage device that attaches to your network router rather than directly to your PC–has become an essential tool for any home or small business that deals with shared data and media.
And the breed continues to evolve: Capabilities now extend far beyond simply serving and streaming files to PCs. Today's top NAS boxes also handle backups in conjunction with online storage services, link to mobile devices for sharing, act as video surveillance controllers, and even work as Wi-Fi hotspots.
Since it uses network protocols to transfer data, a NAS box is operating-system-agnostic: Windows, Mac, and Linux PCs alike can use the storage without special drivers. Usually, the connection relies on wired ethernet, but some boxes can connect wirelessly. Most NAS boxes have two to eight hard-drive bays and use RAID for data redundancy. Modern NAS boxes run a full-blown server OS–in most cases Linux, but occasionally Windows Storage Server 2008. Either way, remote management takes place via a Web browser or client software.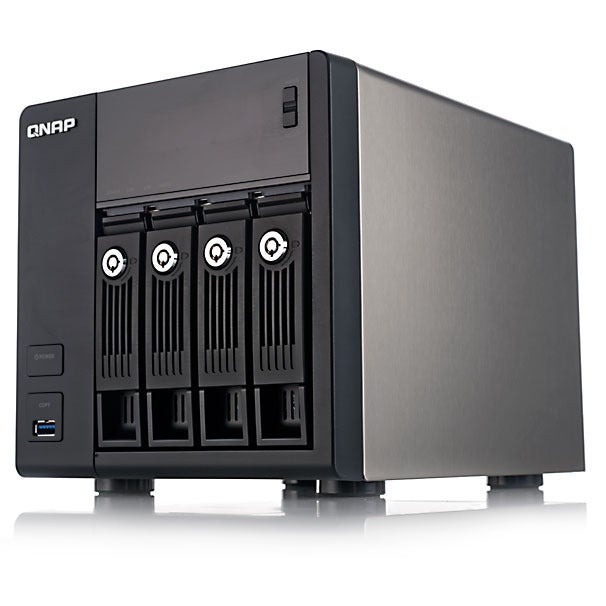 To see how far NAS technology has come in recent years, we tested five two-bay NAS boxes and six three-or-more-bay units, and examined their feature sets. Our ranked charts for Network-Attached Storage Devices: One or Two Bays and Network-Attached Storage Devices: Three or More Bayssummarize what we found.
The USB 3.0 ports on some premium models are the main outward sign of change. Hardware features tend to vary with the price of the box, but they commonly include USB 2.0 and eSATA ports for sharing printers or backing up to external storage; solo or dual ethernet jacks (dual for connection sharing or redundancy); and direct copy buttons for copying the contents of thumb drives and other storage attached to the NAS box without the need to access the box's HTML interface.
Inside the box, faster CPUs and chipsets, and more memory, have improved performance significantly. Pricier, high-end boxes for small business can now read data at rates up to about 110 MBps and write it at about 100 MBps–almost twice as fast as most internal or direct-attached drives. The jump in performance, however, has yet to fully trickle down to the next tier of consumer-grade NAS boxes from vendors such as LaCie and Buffalo; though far more affordable, these models lack the punch of top-of-the-line products.
In the next year, updated hardware from many vendors should level the playing field again. And few home users need more speed than even the slowest box in this roundup can give them right now. If you only occasionally back up one or two PCs, or stream media, any of the boxes we tested will meet your needs. On the other hand, if you regularly back up multiple PCs in an office, deal with large amounts of data, or stream to multiple locations, you need all the speed you can get, and you'll likely find that high-end performance is worth paying extra for.
Though hardware has evolved gradually, software–including the code than handles RAID functionality–has grown by leaps and bounds. In addition to supporting standard RAID levels (0, 1, 5, 1+0, and so on), some vendors–such as Netgear and Synology–now automatically configure drives into the optimal array, even implementing data redundancy. In most cases you don't have to use like-capacity drives either, though doing so is still optimal.
Software features that were highly advanced two years ago are now considered standard: DLNA-certified media serving, iTunes serving, website serving, and remote access to the NAS interface and files via HTML, FTP, Webdav, and other protocols. Newer features include backup to online storage services, access to files from mobile phones and tablets, and remote backup and synchronization across local networks and the Internet. Being able to easily sync two boxes in two different locations provides offsite backup without your having to pay for online storage.
NAS software interfaces have improved, too. Confusing sets of basic and often ineptly designed HTML pages have largely morphed into stylish, well-organized, easy-to-navigate interfaces. Synology's latest 3.x and 4.x OSs are able to function as windowed operating systems in a browser.
If you're not using a NAS box to manage your company's data and online presence, you're missing out. Feature-rich NAS boxes can save you money in the long run by rendering software services that you formerly had to farm out. Our top pick among two-bay NAS boxes is the Synology DS712+; the top-ranked box with three or more bays is the QNAP TS-459 Pro II.
For complete review of each of the 11 NAS boxes we tested for this article, click the appropriate links below.
If you're more interested in a low-cost, consumer-oriented NAS box for media streaming and client backup, be sure to check out this story:
Two Bays
• Western Digital My Book Live Duo 4TB
• Buffalo LinkStation Pro Duo 2TB
Three or More Bays
• Western Digital Sentinel DX4000