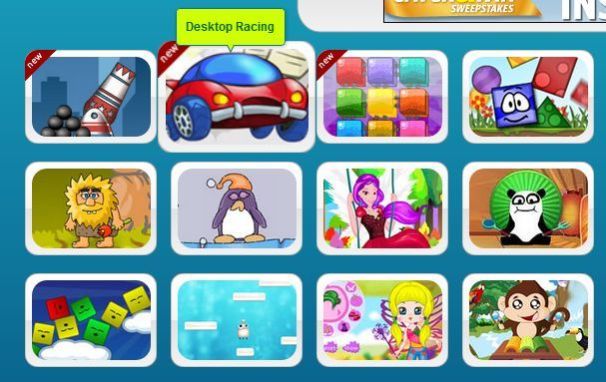 Kids often venture onto the Web in search of games to play, not realizing that some game sites are home to malware and other security threats. And, let's face it, not all online games are suitable for all ages.
Kido'z Games offers a safe, kid-friendly environment that lives entirely in your Web browser (meaning there's nothing to install).
When you visit the site, you see thumbnails for about 60 games. Click the right arrow for another page with about 50 more.
Mousing over any thumbnail reveals the name of the game–though not the target age of the player. Kido'z Games would do well to group the games by age, as there are some that definitely skew toward older players, and some that skew younger.
Overall, however, I'd say that all kids ages 5-10 will find plenty of entertainment here. The games range from block-sliding puzzles to helicopter-flying arcade challenges to simple tic-tac-toe–a little something for everyone.
In my tests, each game loaded very quickly, though always preceded by an ad. (In most cases you could click to skip it, but occasionally you'd have to wait a few seconds for it to disappear.) Younger kids might accidentally click an ad and end up someplace else, which could prove frustrating.
Also, although most of the games are easy enough to figure out or come with instructions, you may need to help younger and/or non-reading players learn the basics.
Kido'z Games is definitely worth bookmarking, especially if you're handing down an older PC to your kids. It keeps the gaming experience fairly well-contained and requires no downloads or setup. Plus, you can't beat the price.
Contributing Editor Rick Broida writes about business and consumer technology. Ask for help with your PC hassles at hasslefree@pcworld.com, or try the treasure trove of helpful folks in the PC World Community Forums. Sign up to have the Hassle-Free PC newsletter e-mailed to you each week.