At a Glance
Expert's Rating
Pros
Beautiful chassis, liquid-cooled hardware
Great general performance
Cons
PCI-E x8 connection for its one free x16 slot
Our Verdict
There isn't much that the speedy Erebus GT desktop PC can't do–in fact, we can hardly think of a thing.
Two questions: What the heck is an Erebus? And how the heck is this system so fast?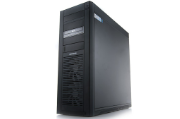 According to Greek mythology, Erebus is the "personification of darkness." We would have guessed that it was something related to Nike, given the crazy speeds of iBuyPower's Erebus GT. The competition at the top of the performance PC chart is pretty tight in terms of general performance, but the Erebus GT shines in plenty of other areas, too: Killer gaming capabilities combine with a beautiful, easy-to-access, water-cooled interior and every modern connection type you might think to plug in.
One of the biggest selling points of the Erebus GT is its price: A cool $2499 (as of March 28, 2012) nets you access to one of the fastest systems on our performance PC chart. That stunning speed is mostly thanks to the system's 3.5GHz Intel Core i7-2700K CPU, overclocked (and liquid-cooled) to a mighty 4.6GHz of processing power. The triple-fan radiator and separate single radiator found in this system's liquid-cooling loop aren't just for looks. Rounding out the system's processing guts is a hefty 16GB of DDR3-1600 memory–not shabby in the slightest.
Our only criticism of the system's loadout–and it's a slight one–is that iBuyPower doesn't throw in 2TB of storage (or more). That said, the Erebus GT's combination of a 1TB drive and a solid-state drive still gives users a healthy amount of capacity and power.
The result? A breathtaking score of 211 on our WorldBench 6 suite of tests, representing one of the best price-for-performance matchups you can find on our performance PC chart. But there's more: The Erebus GT also carries one of the fastest single-GPU graphics cards on the market right now, the AMD Radeon HD 7970, which delivered a commanding frame rate of 59.6 frames per second on our Crysis 2 benchmark (2560 by 1600 resolution, high quality). And did we mention that the card is water-cooled as well?
iBuyPower nailed the Erebus GT's look, feel, and lighting, down to the tiniest detail–from the flattened look of the system's front, to the plastic ventilation fins on its top, to its crystalline-etched side panel, to the neat mix of half-inch hoses and angled connectors that leaves not a single liquid-cooled element feeling out of place. It's simply beautiful construction.
The system's free drive bays–one 5.25-inch slot and four 3.5-inch slots–use screws to secure devices in place. All of them are fat thumbscrews, however, freeing you from having to reach for the tool box to modify your system's loadout. You can mount hard drives using one of two handled pull-out bays–a convenient and unexpected touch for the aspiring upgrader.
You'll find plenty of free PCI slots inside, including three PCI Express x1 connections and two PCI connections. However, the PCI Express x16 connection on the Erebus GT's Gigabyte GA-Z68X-UD3H-B3 motherboard runs at x8 speeds, not x16. (Bandwidth sharing at its finest, folks.)
The Erebus GT doesn't skimp on the essentials, especially in light of the various devices you might connect to this performance PC. On the front are four USB ports (two USB 2.0, two USB 3.0). On the rear are six USB ports (four USB 2.0, two USB 3.0), as well as connections for DVI, VGA, DisplayPort, HDMI, optical S/PDIF, eSATA, FireWire 400, integrated 7.1 surround sound, and gigabit ethernet.
And that's just the motherboard. The Erebus GT's AMD Radeon HD 7970 comes with a DVI port and an HDMI port, as well as two mini-DisplayPort connections. Combine those with the desktop's Blu-ray player, and all you're missing is the popcorn.
Our review system shipped with a gaming mouse (which basically means the inclusion of side buttons, for those of us used to more standard mouse designs). It's wired, just like the keyboard we received with the Erebus GT. We appreciate the keyboard's function buttons, which deliver quick access to favorite applications.
We don't say this often, but the iBuyPower Erebus GT is a system that must be seen to be believed. Benchmarks and descriptions can do only so much to highlight this desktop's excellent performance and components (all available for a very competitive cost). Feast your eyes on this elegant, liquid-cooled performance PC in person, and you'll swear that it's begging you to take it home.