The popular free note-taking and organizing software Evernote has added speech-recognition support to its app for phones running Google's Android operating system.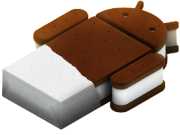 However, the new feature only works with phones running Android 4.0, also known as Ice Cream Sandwich, which was on less than once percent of Android phones at the beginning of the year.
Evernote for Android has always supported audio notes, but with this latest edition–now available from Google Play, which was formerly the Android Market–the software, which is used by 20 million consumers, will turn what you say into text.
To turn on speech recognition within the app, you simply tap a microphone icon located above the virtual keyboard that appears when you open a note in the program. As you speak, what you say will appear in your note.
If you'd rather dictate an audio note, simply tap and hold the microphone icon. Another mic icon will appear. Tap it to start recording; tap it again to stop recording.
As with other speech-to-text apps, such as those made by Dragon systems, the app's heavy lifting is done in the cloud so you have to be online for the feature to work.
Features New to Evernote
In addition to adding speech recognition to the Evernote app, the company has also added some new features to its widget app. Those features allow you to customize the widget–choose a new "theme" for the interface, pick which Evernote buttons will appear in the widget, and determine the notes that appear in the large widget. These could be last viewed, last updates, saved searches, and so on.
Evernote also has added a "tiny widget" and a Quick Snapshot feature. The tiny widget allows you to place a single Evernote function anywhere you'd like on your phone.
Quick Snapshot provides a swift way to get images into Evernote. The function works within the widget. Tap it, take a photo, click save, and the image will be saved to your Evernote account with an auto-generated title.
As smaller scale devices with touchscreens become more popular, speech recognition will become an important alternative to the small keyboards–both virtual and mechanical–now doing the lion's share of input into smartphones and tablets.
Follow freelance technology writer John P. Mello Jr. and Today@PCWorld on Twitter.