Facebook may not offer a dislike button, but a new app on the social network called EnemyGraph lets you publicly pour some hate on anything that raises your ire.
EnemyGraph lets you declare any of your Facebook friends, other EnemyGraph users, groups, or brand pages as enemies (i.e. something you really, really don't like). The ten most popular enemies among EnemyGraph users currently include Senator Rick Santorum, Justin Bieber, Westboro Baptist Church, Internet Explorer, Fox News, Farmville, Racism, the Twilight Series, Nickelback, and Rush Limbaugh.
The app's creators, led by self-styled transmedia artist and technologist Dean Terry, call EnemyGraph a "kind of social media blasphemy" and a "fun critique of the lopsided Facebook approach to online mediated social interaction." Instead of hiding the natural human tendency to dislike or hate things underneath Facebook's "country club atmosphere," EnemyGraph lets you publicly declare your distastes online.
But EnemyGraph isn't trying to turn Facebook into an all-or-nothing hatefest. Instead, Terry says, it is merely offering another way for users to get to know each other. "Most social networks attempt to connect people based on affinities…But people are also connected and motivated by things they dislike," Terry said in a blog post announcing EnemyGraph.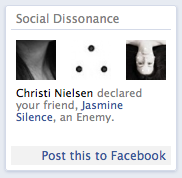 One way the app connects users via dislikes is by alerting you with so-called "dissonance reports." Let's say you don't like Facebook's new Timeline layout–currently object of hate No. 18–and you share that information on EnemyGraph. Your best friend, however, has marked Timeline as something they like on Facebook. EnemyGraph will alert you to this difference as a way to spark conversation with others based on differences instead of Facebook's standard approach of embracing similarities.
At the time of this writing, EnemyGraph was down for maintenance as the team moves to new servers to deal with the app's sudden surge in popularity. But if you're interested in declaring your enemies online you can check out the EnemyGraph website to see who and what is currently getting negative attention on Facebook.
Connect with Ian Paul (@ianpaul) on Twitter and Google+, and with Today@PCWorld on Twitter for the latest tech news and analysis.