Google will open an online store where it will market and sell tablets directly to consumers, with some of the devices potentially being co-branded with Google's name, the Wall Street Journal reported Thursday.
Google hopes the move will increase the adoption of its Android operating system in tablets, the Journal reported, citing unnamed sources. But selling tablets online could be challenging, since consumers often prefer to see the hardware in person before making a purchase.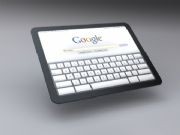 The Journal didn't say when the online store might open, and Google declined to comment. The tablets will be manufactured by Google partners such as Samsung Electronics and Asustek Computer, the paper said. One tablet to be sold in the store, from Asus, is due to go on sale later this year, it said.
Android has been a big success in smartphones, but Android tablets have yet to make much of a dent in Apple's huge iPad business. Perhaps the strongest competitors today are from Amazon, and those tablets are based on a fork of the Android OS for which Google receives no payment, said Bob O'Donnell, an analyst at IDC.
"Clearly, Google is in a difficult position," he said.
Succeeding in tablets is important for Google because it will make Android even more attractive to developers. "Their goal ultimately is to have the OS on as many devices as possible," O'Donnell said.
It's easier for Apple to sell tablets online because it has a network of stores where people can handle the devices before they buy them, he said. It may be more challenging for Google, unless the exact same products that it sells online are also available at retail.
Google apparently was not put off by its first foray into online hardware sales, the Journal noted. Google started selling its own Android smartphone, the Nexus One, in 2010, but it closed the online store six months later because it wasn't successful. After the phone went on sale, Google initially struggled to deal with support requests.
"[I]t's clear that many customers like a hands-on experience before buying a phone," it said in a blog post at the time.
James Niccolai covers data centers and general technology news for IDG News Service. Follow James on Twitter at @jniccolai. James's e-mail address is james_niccolai@idg.com