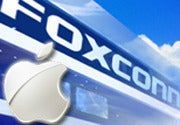 Low labor costs and a growing reliance on automation will ensure Apple supplier Foxconn's newly announced efforts to reduce overtime for its employees and hire extra workers has no effect on product prices, according to analysts.
By July 2013, Foxconn will restrict workers' overtime to 36 hours a month, bringing it down from the allowed 80 hours per month, according to an audit released by the Fair Labor Association on Thursday. Foxconn, which manufactures Apple's iPad and iPhone, made the changes following growing criticism of working conditions at the company's factories in China.
But the policy change also means the electronics manufacturer will need to hire a significant number of extra workers to make up for the lost hours, the audit said. Foxconn already employs 1.2 million workers in China.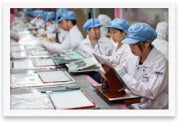 Labor costs in China, however, only a make up a small fraction of a product's total cost, said Helen Chiang, an analyst with research firm IDC. In the case of a PC, the labor cost will only amount to three to four percent of its price, she said.
Foxconn is also expanding its factory base into central and western China, where worker wages are lower. This is expected to bring down Foxconn's labor costs by 20 to 30 percent, Chiang said.
"I don't think the new policies will have much impact on product prices," she added. "Foxconn has already been working to resolve these labor costs."
Foxconn has also said it will build robots for use in its manufacturing processes, which will reduce labor costs over the long term, said Amy Teng, an analyst with research firm Gartner. Last July, Foxconn's CEO said the company planned on deploying 1 million robots over the next year three years at its factories.
The manufacturing giant is also working to increase its revenue by building more of the components used in Apple's iPhone and iPad products rather than source them from outside vendors, Teng said.
"I am now tearing down the iPad 3 and I've found more parts that used to be made by external vendors, but are now being made by Foxconn," she said. Apple can now shift more component orders to Foxconn, in order to help the supplier increase revenues and improve workers' salaries, she said.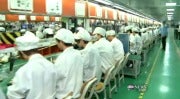 The Fair Labor Association's audit found that during peak production periods workers at three Foxconn factories in China worked more than 60 hours a week. Nearly half of all employees reported working 11 consecutive days or more at some point.
Many employees, however, reported wanting to work more. A survey found that 33.8 percent stated they would like to work more hours to earn more money, while 48 percent said the working hours were reasonable.
But a majority of surveyed workers, at 64.3 percent, said their salaries were insufficient to cover basic needs, according to the audit. The average monthly salaries across the three factories varied from 2,257 yuan (US$357) up to 2,872 yuan ($454).
In February, Foxconn said it had raised wages for its assembly line workers in China by 16 to 25 percent. But workers' salaries are still too low despite the increase, especially as employees depend on overtime work to earn more wages, according to labor watchdog group Students & Scholars Against Corporate Misbehavior.
"Apple should ensure that workers can have a living wage when cutting the overtime work to 36 hours per month," said Debby Chan, a project officer with the group.
Foxconn welcomed the findings from the Fair Labor Association's audit, is committed to ensuring workers have a safe, satisfactory and healthy working environment, it said in a statement.
Apple said on Friday the company has been working for years to improve working conditions at the factories and wants to make its supply chain "a model for the industry."