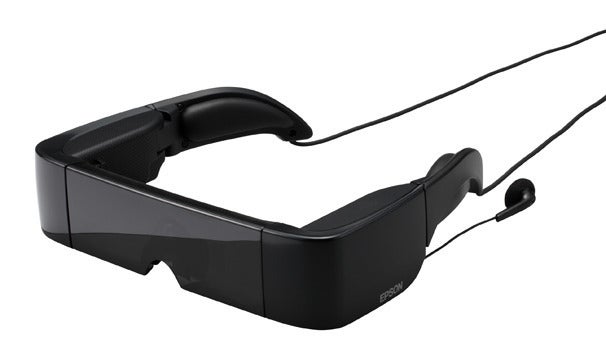 Epson (yes the guys that make printers), has invented what could be the coolest headwear since Geordi La Forge's VISOR on Star Trek: The Next Generation.
The Epson Moverio BT-100 is a wearable transparent display that runs on Android. The Moverio uses micro-projectors to project the equivalent of an 80-inch screen into your eyes, and is capable of displaying both 2D and 3D content. You can even load apps onto it, thanks to the device being able to connect to Wi-Fi and having access to the Amazon App Store.
The glasses are slightly larger than normal sunglasses, and have an attached control pad for navigating about the Android interface. The control pad has a D-Pad and a touchpad, as well as a microSD card slot for additional storage. The touchpad doesn't support multitouch, but it works well enough that you can play a game of Angry Birds Rio without much issue.
Now before you go running out to buy yourself a set of Android powered glasses, there are a few things you should be aware of: The Moverio is aimed at developers and is priced at $699–not exactly pocket change for the average person. That doesn't mean the average person couldn't go out and buy a pair, but Epson is hoping that developers gain an interest in the company's transparent display technology so that more apps can be built to take advantage of the unique hardware.
So if you have some extra cash just laying around, and want to pretend like you're in an episode of Star Trek, you can buy a pair of Moverio glasses right now from Epson's website.
Like this? You might also enjoy…
Get more GeekTech: Twitter– Facebook – RSS | Tip us off