CCP Games held their annual Fanfest last week in Reykjavík, Iceland and I was on location checking out Dust 514 and everything new happening in EVE Online. While DUST may be the newest property to come from CCP, they aren't backing away from EVE. In fact, they demonstrated during the show how they plan to bring the two together in a way that has never been done before.
Attendance numbers were relatively low, compared to other gaming events I've attended. But Fanfest is a big deal to both CCP and EVE Online fans. There were just over a thousand people in attendance (not including CCP staff or press). But that's a pretty large number of people willing to fly to Iceland for a week, considering that the game has just over 400,000 subscribers.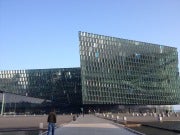 Having outgrown Iceland's Laugardalshöll Convention Center, Fanfest took over the Harpa Opera House this year. It's a beautiful location, and allowed more room for panels and keynotes as well as a place to actually sit down! It was one of the most enjoyable convention venues that I've ever been able to nerd-out in.
There was a big focus put on Dust 514 –you can read all that about in my hands-on preview– but EVE was still the main reason that people were there. CCP detailed the points of the upcoming Inferno expansion, as well as cleared the air on what went wrong with Incarna – a tumultuous expansion that saw a large number of players unsubscribing from EVE Online.
CCP releases several free expansions for EVE Online every year, adding new content for players to dabble in. Incarna was supposed to introduce avatars, and see players finally leaving their ships to walk around space stations, to interact with each other face to face. When Incarna launched, players were given a single room to meander about in alone – a colossal disappointment.
During the keynote, there was a surprising level of transparency, which we don't see much of these days. There were detailed graphs and explanations of what went wrong with Incarna, and how CCP plana to continue to fix it. The presentation was filled with jokes about monocles (woefully expensive micro-transactions were one of the biggest failures of Incarna), and players were repeatedly reminded that CCP acknowledges that spaceships are the core of EVE, and need to be made a primary focus again.
Perhaps one of the greatest parts of Fanfest is that everyone there loves EVE. While that may sound like a 'well, duh!' statement, you'd be surprised at how many people go to conventions and don't actually like games that much. This was most evident during the keynotes.
During the EVE Keynote on Friday, CCP aired a trailer showing off improved animations for the game's missle turrets. The audience went wild, but one fan demanded more. He turned to the crowd and yelled "COME ON! That's awesome! AGAIN! AGAIN!" Soon enough the entire crowd stood, and joined him. So CCP obliged, and played the trailer again. Keep in mind that I'm not talking about groundbreaking new content, or brand new ships, or an epic space battle. This is (an admittedly attractive) video of ships, firing missiles. I've been to many a keynote, and this level of adoration is… rare.
CCP gets it. Every year, they create a "future vision" trailer, a cinematic look of EVE Online present and future, as the company envisions it. During this year's iteration of the tradition, the entire audience roared for an ecore. Hilmar Veigar Pétursson, CCP's CEO, came out on stage and said "We'll play it again, but I wanted to hear you all chant 'F*** yeah!' three times!" And the audience obliged, with more fervor than any crowd I've ever seen at a keynote.
"We consider EVE Online to be the framework, and that our players are the content" remarked Halldor Fannar, CCP's CTO. That's an extremely interesting way to look at your game. It's almost as though CCP isnn't creating a game at all, and instead providing their subscribers with the tools required to shape their experience as they see fit.
This seemed to be a pretty common sentiment with players I ran into throughout the show. One player explained: "Most of what we do in the game has nothing to do with the game itself, but the people in it and what they do. It's mostly us reacting to something that another corporation has done, and the cycle continues."
But what about Incarna? Many players were interested in walking in stations, and CCP hasn't entirely abandoned the idea. At a panel, CCP discussed the possible inclusion of derelict vessels and space stations that would be scattered throughout the EVE universe. This would bring the avatar gameplay that was introduced in Incarna into a more prominent role, but they didn't have anything to show at this time. There were some really interesting gameplay possibilities discussed — consider boarding one of these abandoned ships, only to have another player come along and weld the door shut behind you. In any other game, this would be considered unfair. But EVE is different. We heard plenty of stories of players tricking or scamming each other but according to CCP, unless someone violates the EULA, it's all fair-play.
This is what makes EVE Online different, and Fanfest so great. The single-server, shared universe means that everyone you run into is a potential friend or foe in the game, making this player gathering a unique opportunity to meet the person behind the ship they've known for so long, and swap war stories with erstwhile foes. And it was great to see CCP interact with their fans and customers, and take feedback based on the conversations and discussion panels during the show. With the launch of Dust 514 and the continued growth of EVE Online, I can't wait to see what the rest of 2012 has in store for the game, and the community.