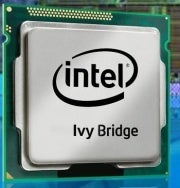 Intel Ivy Bridge processors may finally be on their way to new desktops and laptops, according to leaked launch schedules.
If you've been wondering whether you should buy a laptop now with a second-generation Intel Sandy Bridge processor or hold out for the next-generation chip for the better battery life and performance improvements, your wait is almost over.
(Benchmarks on AnandTech indicate a 5% to 15% increase in CPU performance for the Ivy Bridge Core i7 processors and a whopping 20% to 50% improvement on the graphics side–a huge plus for gamers).
Ivy Bridge processors were due to arrive in early April, and then the processors were delayed several weeks. Now, according to a report on CPU World, it seems the fastest, quad-core models will be announced in the last week of April and available starting April 29.
These chips include the Core i7 and Core i7 Extreme families of mobile processors and Core i5-3570K, i5-3570T, i5-3550, i5-3550S, i5-3450 and i5-3450S desktop processors.
This suggests we should start seeing high-end, fast, and powerful Ivy Bridge laptops with Core i7 processors on the market later this spring. The Samsung Series 7 gaming laptop–with a Core i7 processor and NVidia graphics card–was one of the first we saw up for preorder, in February.
For most of the other Ivy Bridge chips, including the dual-core Core i5 and Core i7 mobile processors and Core i5-3570, i5-3570S, i5-3475S, i5-3470, i5-3470S and i5-3470T desktop CPUs, we'll have to wait until June 3for availability.
This may make it the summer of Ultrabooks with Ivy Bridge processors, as the Computex electronics trade show in Taipei is being held from June 5-9–prime time for laptop manufacturers to show off their new laptops. Expect Ultrabooks and other laptops with Ivy Bridge Core i5 and Core i7 processors in many back-to-school circulars too.
If you're holding out for a more budget-friendly laptop or desktop, the dual-core Ivy Bridge Core i3 chips are expected later in the year, in the third quarter–just in time for holiday shopping.
This slide at Turkish site Donanimhaber discusses these timing expectations.
Follow Melanie Pinola (@melaniepinola) and Today@PCWorld on Twitter