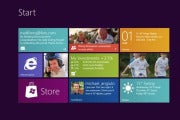 Windows 8's touch-centric interface will help to usher in a new wave of laptops with tabletlike touchscreens. To make it easier for users to tap and swipe on even superthin Ultrabooks, laptop makers will break out of the traditional clamshell shape and introduce laptops with more unusual designs.
What will these new Windows 8 hybrid laptops look like? The new operating system will make rotating, sliding, and flipping possible on Windows laptops. Here are a few examples of existing hardware designs that offer a taste of what a laptop with Windows 8 capabilities could do.
Going Beyond the Clamshell
Although laptop manufacturers could simply add a touchscreen to a laptop without changing the traditional clamshell shape, that could pose a few problems, especially in the case of the new category of superthin Windows laptops, Ultrabooks.
When trying to interact with the thin touchscreen panel on an Ultrabook, you could easily end up pushing the screen down. And according to DigiTimes, laptop manufacturers can't just strengthen the hinge to compensate, because that could cause the bottom of the lightweight laptop to flip up when you press the screen. Aside from the physics problem, reaching over the keyboard for extended periods of time with the screen at an angle might not be ideal for users from a usability or ergonomics standpoint.
Thankfully, we've seen many innovative laptop designs that manufacturers could adopt successfully for Windows 8.
Convertible Tablet Design
Convertible tablet PCs, such as the Fujitsu Lifebook T580, have screens that rotate 180 degrees and fold flat to work in tablet mode. Since their introduction about a decade ago, convertible tablet PCs have never really taken off outside of niche business and student circles, owing to their bulky size and high cost.
Windows 8 convertible PCs, however, will likely be not only much sleeker but also much more budget-friendly than previous tablet PCs–ditching optical drives and arcane, expensive pen-optimized displays. Relatively thin Ultrabooks with rotating touchscreens could take advantage of the finger-friendly Windows Metro interface like a slate, but then could transform back into laptop mode.
Fold-Over Design
The Lenovo IdeaPad Yoga presents another possible design solution. This 0.67-inch-thick Ultrabook, not yet available, flips back 360 degrees on a pair of double hinges. Propped up on a table like a tent, the Yoga will resist toppling over when you use touch apps, and it will offer an ideal viewing and tapping angle. The Yoga can also flip into other positions.
The Yoga's fold-over design is a newer concept than the convertible/rotating screen. How the fold-over design actually feels and works remains to be seen; the Yoga is expected to be released later this year. Still, it's an innovative and viable option that other laptop makers could adopt.
Sliding Screen Design
Laptops may also take design inspiration from smartphones, with keyboards that slide out from underneath the touchscreen.
One example of a model with a sliding screen was the Samsung TX100, which debuted at CES 2011. This slim tablet PC was reminiscent of the MacBook Air but had a keyboard that slid out from beneath its screen just as the original Android G1 smartphone keyboard did. After its introduction at CES, the TX100 was due to go on sale in spring 2011–in Europe, at least. However, that never happened.
Another example of a sliding design is the Asus Eee Pad Slider, even though it's an Android tablet rather than a laptop. PCWorld's review of the 10-inch Eee Pad Slider found the design to be effective, with the display sufficiently tilted and sturdy for touch navigation.
Docking Station Design
Perhaps the most versatile option is the docking station design, in which tablets slide into a docking station (or connect to one wirelessly) to create a hybrid laptop of sorts.
Android tablets–in particular, the Asus Transformer Prime and the more recent Lenovo IdeaTab K2–lead the way here. While those devices are technically tablets that connect to docking stations to become more laptoplike, you can find Windows tablets with laptoplike specs and docking stations.
For example, the Samsung Series 7 tablet boasts the same hardware specs as Samsung's Series 7 laptops, but in a thin and small tablet form. The Windows 7 slate comes with an Intel Core i3 or i5 processor, a solid-state drive, and 4GB of RAM. The docking station extends the tablet's capabilities with a wireless keyboard and more ports for full laptoplike functionality. A Windows 8 version is in the works.
Windows 8 laptop manufacturers considering incorporating touchscreens could perhaps go this route, offering the best of both worlds by making tablets as powerful as laptops with keyboard docking stations. After all, Microsoft wants Windows 8 to be the "everywhere operating system" for all devices–good on tablets, laptops, smartphones, and everything else, whatever shape or form they come in.
Are you looking forward to Windows 8 touchscreen devices? Let us know in the comments.
Follow Melanie Pinola (@melaniepinola) and Today@PCWorld on Twitter.