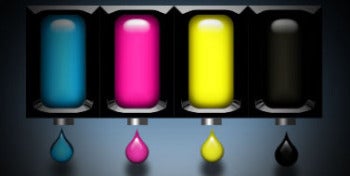 If you buy a cheap inkjet printer, you're going to pay a small fortune for the ink to run it (assuming that you use the ink that its manufacturer specially designed for it). Even so, the size of the bill depends to a great extent on which brand of printer you buy. Some printer makers, like Kodak, work hard to keep their ink prices reasonable, while others, like Dell, consistently charge top dollar.
When you look at as many inkjet printers and multifunction printers as I do–about 40 per year, representing about half of the total number of models currently available from major vendors–you start to see trends in ink pricing. I maintain a dynamic average of ink costs that shifts as I add new printers to the list and retire old ones. The averages have remained fairly stable over the past few years: For standard-size ink cartridges, which generally yield about 250 pages or less, the average price per page is about 4.8 cents for pages that use only black ink, and it's about 13.8 cents for prints that use all four colors. High-yield cartridges have more ink and print more pages–in some cases, thousands more pages–and like most bulk purchases, they cost less in the long run. The average costs for large, high-yield cartridges are about 3.4 cents per page for black and 10.4 cents for a page with all four colors.
Kodak's Inks Remain the Cheapest
Kodak's ink is one of the best deals on the market, regardless of the particular model you buy. For the $100 Kodak ESP C310 multifunction printer, for example, the cost of black ink works out to a very reasonable 3 cents per page, whether you're using the printer's standard-size or high-yield ink cartridges. Add in cyan, magenta, and yellow, and the cost rises to 9.5 cents per page for a standard-size cartridge, but that's still more than 4 cents per page below the average ink price per four-color page. For high-yield color cartridges, Kodak's price is 9.2 to 9.5 cents per four-color page–still well below the average.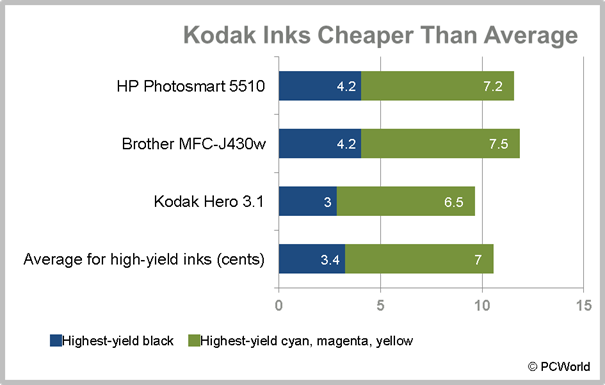 Cheap ink isn't everything, of course. We've encountered problems with the speed, features, and print quality of Kodak printers in the past. The company has improved its most recent models somewhat on those variables–just in time for its bankruptcy filing.
Brother, HP Costs Are Average
Inks from Brother and HP aren't close to Kodak's prices, but they do tend to be about average. The Brother MFC-J430w MFP, which costs just $100, offers high-yield inks that ultimately cost 4.2 cents per page for black and 11.7 cents for all four colors; both of those figures are slightly above average. For the same printer price, the HP Photosmart 5510 MFP matches the MDC-J430w's 4.2 cents per page for high-yield black and costs 11.4 cents per page for four-color pages.
Epson's ink prices are a slightly different case. You'll find reasonable pricing in its creativity-oriented Artisan and business-minded WorkForce product lines: The Epson Artisan 837 MFP, for instance, costs just 3.3 cents per page for black and 9.2 cents per page for four-color printing, while the Epson WorkForce 845 all-in-one charges 3 cents for black and 10.2 cents for all four colors. The home-oriented Stylus product line is an exception. Standard-size ink cartridges for the Epson Stylus NX430 MFP have higher-than-average costs of 5.8 cents per page for black and 15.7 cents per page for all four colors. The Stylus product line also gives users the option of buying what Epson calls "moderate" cartridges, with page yields lower than those of the standard-size cartridges: just 200 pages or so. Those inks are even pricier: 6.2 cents per page for black and almost 18 cents for a page with all four colors.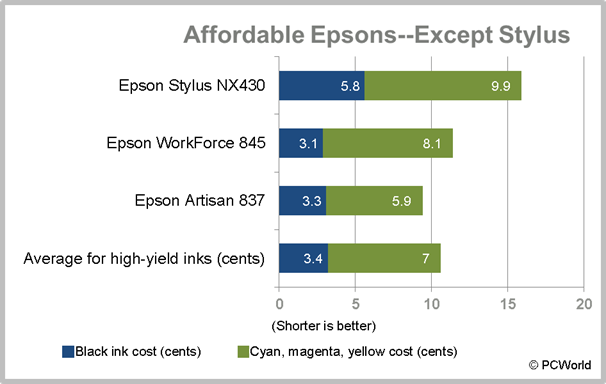 Dells and Some Canons Are Pricey
Dell's multifunction inkjet printers historically have some of the priciest inks around. The Dell V715w MFP has standard-size cartridges that currently cost 8.9 cents per page for black pages and 20.6 cents per page for four-color pages. The high-yield cartridges drop those figures to a more palatable 6 cents per page for black and 13 cents per page for all four colors. The company's newly announced V525w and V725w models have standard-size cartridges that cost a slightly above-average 5 cents per page of plain black text, but an atrocious 27.5 cents per page for all four colors. The extra-high-yield black is an affordable 2.4 cents per page, but the four-color cost remains high at 14.4 cents.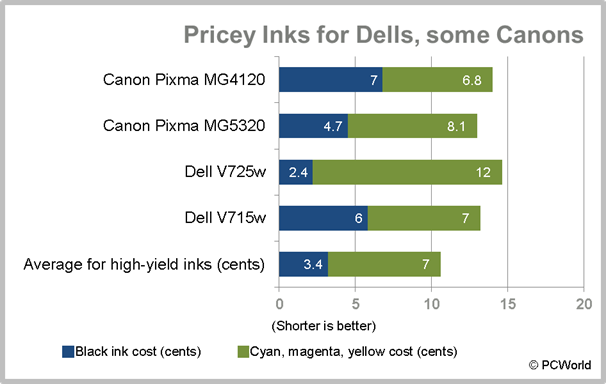 Canon printers priced at $200 and above tend to have reasonable ink costs. Not so among the company's sub-$200 models: for the Canon Pixma MG4120, black costs 7 cents per page for the high-yield cartridge, and 6.3 cents per page for the extra-high-yield cartridge. The high-yield color inks are more reasonably priced, with a four-color page coming in at a middling 13.8 cents. Canon's only inexpensive printer with reasonably priced inks is the $150 Canon Pixma MG5320 MFP. It does not offer high-yield cartridges, but its standard-size cartridges cost 4.7 cents per page for black and 12.9 cents per page for a four-color page–cheaper than average for that size.
Lexmark's Polarized Ink Pricing
Recent inkjet printers from Lexmark have improved noticeably in overall quality, but the company's ink prices remain a mixed bag. Lexmark's high-yield cartridges often have startlingly low costs per page. But the prices go up sharply for standard-yield cartridges.
If you use high-yield cartridges for the Lexmark OfficeEdge Pro5500 all-in-one, for instance, the prices are just 1.5 cents per page for black and 7.9 cents per page for all four colors–both figures being way below average. The standard-size cartridge prices, though, are significantly higher. The 4.2 cents per page for black is about average, while 17.4 cents per page for all four colors is a hefty 7 cents per page higher than average.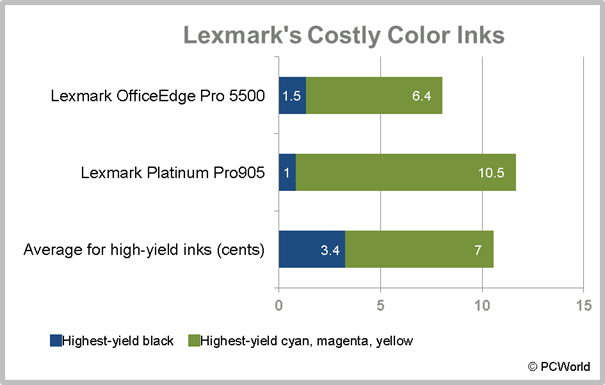 Among other Lexmark inkjets we've tested, two MFPs–the small-office Lexmark Pinnacle Pro901 and the Lexmark Platinum Pro905–use standout high-yield inks: a special 510-page black cartridge (the 105XL) costs $5, or a scant 1 cent per page. With that black and the high-yield colors, you'll currently pay 11.5 cents for a four-color page, which is about average. Unfortunately, the prices for the standard-size ink cartridges are outrageous: 11.2 cents per page for standard-size black and 29.2 cents for all four colors
How to Find the Best Deal
Of course, many more printers are available than I've mentioned here. So how do you figure out whether the ink for a particular printer will break your budget? The math is actually pretty easy.
For any printer you're considering, look at each ink cartridge and divide its price by the vendor's stated page yield. This computation will give you a simple cost per page, just for the ink. Most vendors use an industry-standard yield test that makes comparison much easier than it used to be. If the manufacturer offers high- or low-yield cartridges in addition to standard-size versions, figure out those costs as well.
It's also important to think about how much you'll likely be printing. High-yield cartridges are relatively cheap, but if you print infrequently, you'll end up with more ink than you need and risk having the print head dry out. If you buy low-yield cartridges but end up printing a lot, you'll be replacing cartridges constantly–and shelling out serious bucks for them.