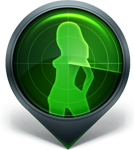 The company behind Girls Around Me, a controversial geo-location iPhone app, has voluntarily removed the application from the App Store. Girls Around Me allowed you to identify girls who have checked into venues near your location, based on publicly available data from Facebook and Foursquare.
UPDATE 4/2/12, 12:30 p.m. PST: SMS Services, the maker of Girls Around Me, told PCWorld it plans to reintroduce the app at a future date. The company also says, as it has before, that it is "technically impossible to stalk, track or trace a particular person" using Girls Around Me. Despite earlier reports, Girls Around Me was not created by i-Free Innovations; however, that company is an investor through the i-Free Ventures Fund.
The app was removed from iTunes after heavy criticism about the app's intent and Foursquare's decision to cut off access to the check-in service's data, rendering the app useless, according to The Wall Street Journal.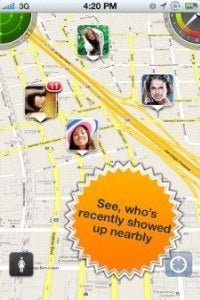 The makers describes Girls Around Me as a way to scan your surroundings and "find out where girls or guys are hanging out." The app showed the ratio of men to women at a location (presumably based on Foursquare check-ins), and let you send messages to people directly from the app via Facebook. Girls Around Me was quickly branded as a "stalker" app since it appeared to focus on exposing data about women, although the app maker says it could likewise reveal data about men.
The maker says the app's "goals, purpose, abilities, and restrictions" were misunderstood. "It is impossible to search for a particular person in this app, or track his|her location," a company representative told the Journal. "The app just allows the user to browse the venues nearby, as if you passed by and looked in the window."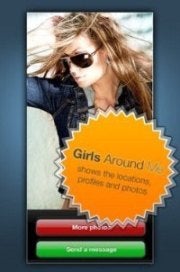 But people who have used the app paint a very different picture from what the company is claiming. I can't test Girls Around Me since it is no longer accessible, but Cult of Mac's John Brownlee did. Brownlee reports he was able to use Girls Around Me to find one person he found attractive (for the purposes of the article), and was then able to discover the woman's full name, age and birthday, current location (based on a recent Foursquare check-in), marital status, where she went to school, political views, her favorite drink (based on Facebook photos), recent travels, her parents' and her brother's full names. That's certainly a lot more information than you can get by just peeking in a bar or restaurant window.
As my colleague Christina DesMarais points out, this app shows — yet again — how putting too much information about yourself online can lead to it being misused in ways you never anticipated.
It's unclear whether Girls Around Me will return to the App Store, but according to the Girls Around Me Twitter account the company is also working on an Android version. The problem, however, is that Girls Around Me, as it is currently designed, does not work without access to Foursquare.
Connect with Ian Paul (@ianpaul) on Twitter and Google+, and with Today@PCWorld on Twitter for the latest tech news and analysis.