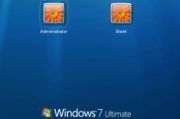 Do you share your PC with family members? If so, you've probably configured it with multiple accounts, meaning each person gets their own private, protected slice of Windows.
(Not sure how this works? Check out PC World's "How to Set Up Multiple Users on a PC.")
The only hassle associated with this–and it's a minor one, I'll grant you–is the process of actually switching between users. In Windows 7, for example, you have to click Start, then the arrow next to Shut Down, and then Switch user.
Surprisingly, there's no keyboard shortcut for this. There is, however, Fast User Switch, a freeware utility that lives up to its name.
You don't need to install this tiny app; it's "portable," meaning you just run it. (The first time you do, you'll probably see a Windows pop-up asking if it's okay to run this program. Clear the checkbox next to "ask me about this every time," and then click OK. You won't see that prompt again.)
When you run Fast User Switch, it immediately takes you to the user-selection screen. And that's it. It's just a handy little time-saver.
I recommend pinning it to Windows' taskbar so that user-switching is literally a single-click affair. (Well, okay, you also have to click the user you want to select.)
Contributing Editor Rick Broida writes about business and consumer technology. Ask for help with your PC hassles at hasslefree@pcworld.com, or try the treasure trove of helpful folks in the PC World Community Forums. Sign up to have the Hassle-Free PC newsletter e-mailed to you each week.