Apple's third-generation iPad is hot, but this time in a good way, says Consumer Reports. The consumer reviews magazine created a stir two weeks ago when it said the latest Apple tablet could get as hot as 116 degrees Fahrenheit in some spots when running games. Despite that finding, CR on Monday gave the new iPad the top spot in the magazine's tablet ratings.
CR's decision is in line with many gadget critics who have lauded the iPad for its 2048-by-1536 display, 5-megapixel rear-facing camera, and 4G access. PCWorld in mid-March ranked the new iPad as the top tablet money can buy giving the tablet 4.5 out of 5 stars.
[RELATED: *New iPad vs. iPad 2: Which is the Better Deal?]*
As for that sweltering 116 degree heat Consumer Reports reported, the magazine says the "new iPad is warmer in its hottest spots than the iPad 2. But we didn't find those temperatures to be cause for concern." During the iPad's purported heat controversy, PCWorld's tests found heat levels in the new iPad were comparable to Android tablets. PCWorld's tests did find, however, that the new iPad runs "hotter than the iPad 2, [but] the difference wasn't great."
One interesting difference between Consumer Reports' findings and PCWorld's was in the device's battery life. CR said the "iPad still has longer battery life than all other tablets." PCWorld's tests, however, found the third-generation iPad's battery life couldn't match other tablets including the iPad 2, the Asus Eee Pad Transformer Prime, or the Wi-Fi only Samsung Galaxy Tab 10.1.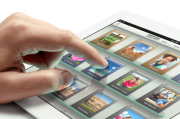 Similar to CR, PCWorld Labs testing also found that Apple's newest tablet charges only minimally when in use.
Apple's newest iPad is the first iOS slate to feature 4G connectivity, the device also has a dual-core Apple A5X chip with enhanced graphics capability, Bluetooth 4.0 and 802.11a/b/g/n Wi-Fi, and a 5-megapixel camera with 1080p video capture at 30 frames per second. The iPad (third generation) ranges in price from $500 to $830 depending on storage and connectivity options.
Connect with Ian Paul (@ianpaul) on Twitter and Google+, and with Today@PCWorld on Twitter for the latest tech news and analysis.