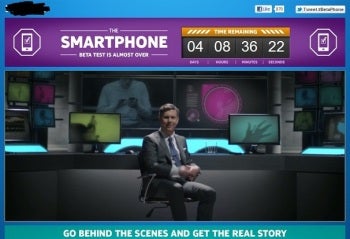 Nokia is kicking off a massive ad campaign for its Lumia 900 smartphone by poking fun at Apple's iPhone.
A new Website, smartphonebetatest.com, shows former Saturday Night Live star Chris Parnell waiting in a room surrounded by monitors, with a clock ticking down to April 6 above him.
Below, there are three videos, each supposedly showing executives ignoring the flaws of an iPhone-like device. All three videos begin with a voice-masked narrator saying, "If you ever thought that maybe your smartphone wasn't all it's cracked up to be, that's because it wasn't."
In one video, called "death grip," the executives admonish a co-worker for "holding it wrong" after he raises concerns about signal loss–a clear nod to the iPhone 4's "antennagate" hubbub in 2010. A second video shows the same employee complaining that the phone's display gets washed out in direct sunlight, followed by his peers telling him not to go outside. The final video shows the employee being mocked by his peers for complaining that the phone is too fragile.
Although Nokia and the Lumia 900 are not mentioned by name, the Website is styled after Microsoft's Metro interface, and you can see a tiny bit of Nokia's logo–most of it is scrubbed over by black marker–at the top of the page.
It seems like Nokia is trying to mimic Verizon's original 2009 ads for the Motorola Droid, which also raised eyebrows for bashing the iPhone. Those ads helped put Android on the map, so perhaps Nokia is looking to do the same for its Windows Phones.
But in these first videos, I think Nokia misses the mark. The iPhone 4S doesn't have the antenna issues found in its predecessor, so bringing up antennagate seems like an out-of-touch attack. As for screen brightness and fragility, I've never known those to be huge complaints about the iPhone.
According to a survey by ChangeWave, iPhone 4S users' biggest dislikes about their phones were short battery life, lack of 4G capability and the small screen. The Nokia Lumia 900 has a big 1830 mAh battery, a 4.3-inch display and 4G LTE on AT&T's network, so I'm surprised Nokia isn't bringing up those points.
Still, the ad campaign hasn't technically kicked off yet. Hopefully Nokia has better arguments in favor of the Lumia 900–and more from Chris Parnell–on April 6.
Follow Jared on Twitter, Facebook or Google+ for even more tech news and commentary.