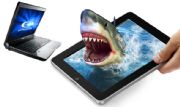 More independent business owners use tablets than either laptops or desktops according to a recent poll that measured the computing tastes of over 1100 respondents. Furthermore, 55 percent of business owners expect to use a "tablet or other device" in the future.
The poll, conducted by The Small Business Authority, found that 28 percent of business owners currently use tablets to run business applications, while that number dropped to 19 percent for laptops and 17 percent for desktops. When asked what they planned to purchase next, 45 percent selected "a new tablet," compared with 41 percent for "a new laptop" and just 14 percent for "a new desktop."
"We are surprised but closely focused on the growth of the tablet as a tool for independent business owners," said TSBA president and CEO Barry Sloane in a statement. "Our client base in excess of 100,000 business accounts when surveyed indicated that over 50% are utilizing the tablet as one of their several devices for business applications."
Here's why those findings are surprising: While Forrester Research recently estimated that a quarter of all computing devices used for work globally are tablets or smartphones, laptops still comprise 26 percent and desktops 37 percent of the total pie. What's more, of the 25 percent smartphone/tablet slice, only seven percent was tablet-based — slightly more than Forrester's "ultraportable" category, but tied with netbooks.
The TSBA poll takeaway is this: Workforce tablet use may be poised to surge as business owners explore new applications that take advantage of tablet computing's unique profile while adopting tablets as official devices (the Forrester study notes that a majority of tablet users currently pay for the tablets they use for work themselves, so business-sanctioned adoption of these devices will be key). The challenge for business owners lies in determining precisely what tablets excel at within the parameters of their operations, beyond, say, their novelty appeal.
Matt Peckham writes for TIME and PCWorld. You can find him on Twitter, Facebook, or Google+.