At a Glance
Expert's Rating
Pros
It's tiny!
Excellent performance
Cons
Small profile means plenty of compromises
Our Verdict
This low-profile performance machine is really, really fast.
The Origin Chronos packs a ton of power in a (relatively) small package. This performance PC is built inside a low-profile Silverstone case, and offers blazing-fast performance on our new WorldBench 7 benchmark suite.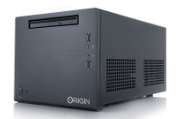 Our review model, priced at $1399, sports an overclocked Intel Core i5-2550K processor (at 4.7GHz, over the stock 3.4GHz), 8GB of RAM, an Nvidia GeForce GTX 560 Ti GPU, and it runs Windows 7 Home Premium. It also has 750GB of hard-drive space, and a 90GB SSD boot drive for quick boot times.
On the PCWorld Test Center's new WorldBench 7 benchmark tests, the Chronos scored an impressive 204. Our baseline testing model (which has a score of 100) is similarly specced, with an Intel i5-2500K processor (at the stock 3.4GHz clock speed), 8GB of RAM, and an Nvidia GeForce GTX 560 Ti. The key differences that lead to the Chronos's considerable performance bump lie in its heady overclocking and its solid-state drive. (You can read up on our revamped testing process in Jason Cross's "How We Test PCs.")
The Chronos also does well in our graphics tests, managing frame rates of 38.4 on our Crysis 2 benchmark at a resolution of 2560 by 1600 pixels. At a resolution of 1920 by 1080 pixels, it earns 70.3 frames per second. These tests are at high settings, so dialing down the resolution a tad (if you're not equipped with 30-inch displays) will give you lots of legroom. In Dirt 3, the Chronos achieved 87.4 frames per second at that 2560-by-1600-pixel resolution. If you're a fan of Codemasters' rally-racer, this isn't a bad place to start looking for your new compact racing rig.
The Chronos is housed in a low-profile Silverstone SG08 case. The chassis features a thick (0.39 inches) black aluminum front panel, and thinner metal sides with lots of vents to help keep components cool. The front panel is elegant and simple, with brushed aluminum styling, Origin's logo in the bottom-right corner, and a large brushed power button in the bottom-left corner. The front panel also has a tray-loading DVD-RW drive, two USB 3.0 ports, and headphone and microphone jacks.
The rest of the Chronos's ports are on the back of the machine. The Zotac Z68ITX-A-E motherboard sports four USB 2.0 ports, two USB 3.0 ports, dual gigabit ethernet, two HDMI-out ports, one mini-DisplayPort, one PS/2 port, support for 7.1 surround sound, and optical audio out. The Nvidia GeForce GTX 560 Ti has two DVI ports and a mini-HDMI out.
Opening up the Chronos is easy enough, but good luck if you're thinking about upgrading or otherwise modifying the interior. The top is held in place with three screws, and slides off easily once those screws are removed. But the Chronos is packed: the CPU is kept cool by Origin's own Frostbyte 120 liquid cooler, coupled with a large fan, and doesn't leave much room to manuever. Don't get me wrong, everything is neat (wires are encased in black mesh), but this very small case just doesn't have a lot of room.
It's a little disappointing that such a speedy machine doesn't include a Blu-ray disc drive, but spend a little more and get one. The hard drive is also a tad on the small size at 750GB, and the system has no card reader (where would you put it?).
But really, there's little to knock about this machine–it's small, lightning-fast, and under $1500. If you don't feel the need to crack open your PC's case and muck around inside, the Origin Chronos does everything a gaming rig should do–deliver astonishing performance at an affordable price.
So–go buy it.