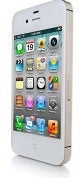 Apple's iPhone 4S may be top sales dog at AT&T, Sprint and Verizon, but the company is still expected to lag significantly behind rival Samsung in first-quarter smartphone sales. Samsung will sell an estimated 41 million units this quarter, compared with 32.6 million for Apple and 12.6 million units for Nokia, according to Canaccord Genuity analyst Mike Walkley.
But Apple's smartphone numbers are currently coming up roses in the U.S. According to Walkley, "the iPhone continues to extend its market share gains … [in] fact, we believe iPhones are outselling all other smartphones combined at Sprint and AT&T and selling at roughly equal volume to all Android smartphones at Verizon."
Speaking of equal volume, Walkley writes "cumulative Android smartphones may have represented over 50 percent of total smartphone sales at Verizon for the first time since the iPhone 4S launch." That's a point glossed over by several other sites focusing on the iPhone 4S triple-retailer sales rankings. "In fact, our checks indicated sales of the iPhone 4S at Verizon were not as strong in terms of total smartphone share at AT&T and Sprint," continues Walkley, noting that this was probably because of LTE promotions at Verizon and the iPhone 4's relatively recent launch on Verizon in February 2011.
Still, Walkley notes that "despite the LTE promotions at Verizon, the iPhone 4S remained by far the top-selling smartphone at Verizon on an individual SKU basis."
For ranking wonks, Walkley writes: "Top-selling models included the iPhone 4S at AT&T/Verizon/Sprint, the Samsung Galaxy S II at AT&T/Sprint/T-Mobile, the Motorola Droid RAZR (MAXX) and Samsung Droid Nexus at Verizon, the Samsung Galaxy Note at AT&T, and the HTC Amaze and Samsung Galaxy S Blaze at T-Mobile."
Matt Peckham writes for TIME and PCWorld. You can find him on Twitter, Facebook, or Google+.