Google has massively expanded its Art Project, making visiting a museum on the other side of the world much easier. Armchair tourists can now explore paintings, sculptures, street art and gigapixel photographs of artwork from 151 museums in 40 countries across the world, the company announced.
The original Google Art Project, introduced last year, featured mostly painting from Western masters, as found in 17 museums in nine countries. Google beefed up the project since, and the updated site now includes more than 30,000 high-resolution artwork and Street View images from 46 museums.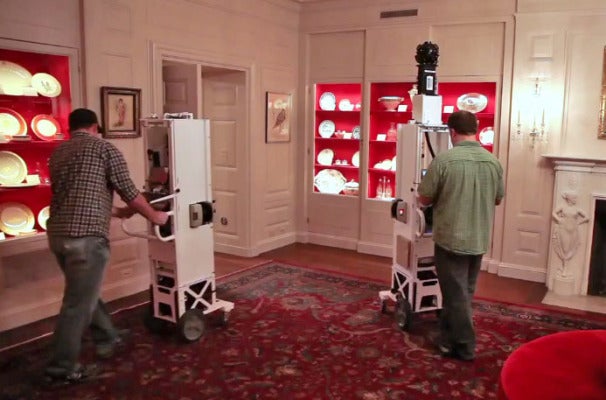 Google engineers captured the Street View images of the museums with a special cart with mounted cameras, similar to the gear found on the Street View cars gathering imagery across the world. These images are then complied into a high-resolution 360-degree panorama that you can zoom in and out of. You can explore some 385 rooms within the museums and you can also view the gallery interiors directly from within Street View in Google Maps.
There are 46 museums you can now explore in Street View imagery, starting with the White House in Washington, D.C., the collection of the Museum of Islamic Art in Qatar, or the Santiniketan Triptych in the halls of the National Gallery of Modern Art, Delhi. You can also visit the treasures of Versailles, the National Gallery in London or Brazilian street graffiti in São Paulo.
When you want to get really up close with an artwork, you won't have to fear setting off the alarm with the Google Art Project. The site also has 46 "gigapixel" artworks captured in very high detail, so you can zoom in to study details of the brushwork and patina, which would be hard to notice with the naked eye, let alone from behind the glass at a museum. The gigapixel photos are so impressive, you should check them out for yourself, such as A Sunday On La Grande Jatte by Georges Seurat.
"In other words, the Art Project is no longer just about the Indian student wanting to visit the Metropolitan Museum of Art in New York. It is now also about the American student wanting to visit the National Gallery of Modern Art in Delhi," explained Amit Sood, head of Google Art Project.
Google also added a few cool tools you can use with the Art Project. The enhanced My Gallery feature lets you build your own personalized gallery. You can add comments to each painting and share the whole collection with friends and family. Also, the Explore and Discover tools let you find artworks by period, artist or type of artwork, displaying works from different museums.
Follow Daniel Ionescu and Today @ PCWorld on Twitter