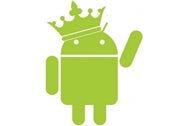 More than half of U.S. smartphone users own an Android phone, according to a new survey by comScore.
The market research group surveyed 30,000 U.S. mobile subscribers in February, and found that Android had 50.1 percent market share, up from 46.9 percent in a survey from November. Apple's iPhone market share also grew over the last three months, up from 28.7 percent to 30.2 percent.
Together, Apple and Google are eating the lunches of Research in Motion and Microsoft, whose respective market shares dropped to 13.4 percent and 3.9 percent. RIM's Blackberry phones have been in a market share decline for years, and Microsoft is still making a rough translation from its old Windows Mobile OS to the new Windows Phone, which has yet to gain much traction.
However, change may be afoot in the U.S. smartphone market. A report from Nielsen in January found that the iPhone alone was almost selling neck-and-neck with the entire Android platform, spurred by the launch of the iPhone 4S on AT&T, Verizon and Sprint. Android sales in December had dropped from 61.6 percent of smartphones to 46.3 percent, Nielsen found.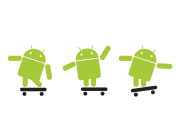 Meanwhile, Microsoft is hoping to get Windows Phone on the map with Nokia's Lumia 900, which launches on April 8 for $100. As part of a major marketing campaign, Nokia is setting its sights on the iPhone with a series of attack ads. The Lumia 900 represents Microsoft's best chance yet at boosting Windows Phone market share.
For now, though, it's the same old story: Android as a whole is getting bigger, but not at the expense of the iPhone, which continues to help Apple rake in the profits.
Follow Jared on Twitter, Facebook or Google+ for even more tech news and commentary.