After 18 months as an iPhone exclusive, photo-sharing app Instagram arrived for Android Tuesday. Instagram allows you to take photos, apply a variety of filters, and easily share your work to many different places, including Instagram's own home-built social network.
I'm a frequent—okay, obsessive—user of Instagram on my iPhone, so I was curious to see how the Android version measured up.
I downloaded the Instagram for Android app from Google Play onto the Samsung Galaxy Nexus (running Android 4.0 Ice Cream Sandwich) and the Samsung Galaxy Blaze 4G (running Android 2.3 Gingerbread) and gave it a spin on both phones.
First things first: This app took up nearly 17MB of space on my Galaxy Nexus, so if your phone is running short of storage space, be aware. Also, before you get too excited, check to see what version of Android you're running. If it's below 2.2, you won't be able to use Instagram–and you should probably check to see if there's an update available for your phone!
Once I logged into the Instagram account I use on my iPhone, I felt right at home using Instagram for Android. The same feed I see on my iPhone was right there on my Galaxy Nexus, complete with all my friends' most recent photos featuring Instagram's well-known image filters.
Fragmentation Bites
The process of capturing, editing, and sharing a photo in Instagram for Android isn't always what it's like on the iPhone. On the Galaxy Nexus, things were pretty similar, though: Clicking the Camera/Share button in the center of the Android app's toolbar brought me directly to a picture-taking screen. Just as on my iPhone, I had the option to either view the existing gallery of photos on my phone (represented on Android by a box with a mountain in it, rather than the interlocking squares on the iOS app). I also had the option to switch to the front-facing camera, turn the flash on or off, or cancel out of camera mode entirely.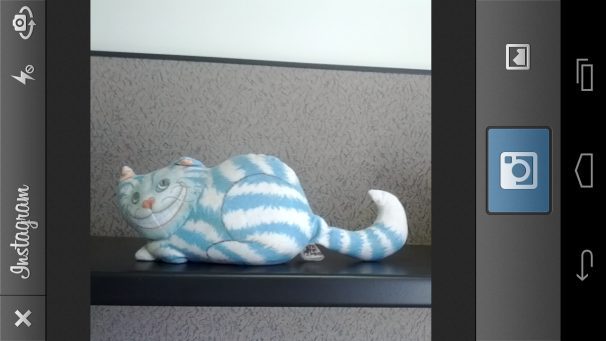 But the camera mode experience on the Galaxy Blaze 4G didn't match up to what I experienced on the Galaxy Nexus. Yes, this is Android fragmentation at its finest! On the Galaxy Blaze 4G, when I tried to take a photo, a dialog box asked me to pick a source: Camera or Photo Gallery. When I picked Camera, I was switched to the Galaxy Blaze's native photo app. That familiar Instagram camera interface I've come to know and love was gone.
You can tweak these settings to force the app to take pictures itself by going to the app's settings on the homescreen. This only seems to work on certain phones, however. On the LG Marquee, the app crashed when I tried to open the Instagram camera. Instead, I had to take my photo in the native camera app and crop it, and only then was I switched back to the Instagram user interface.
Then again, maybe it doesn't matter much where you shoot your Instagram photos on Android right now. That's because, unfortunately, Instagram app for Android is missing a feature recently added to the iOS app: The ability to view a live preview of a filter before you shoot. You can still add one after you shoot, but I've gotten used to being able to mess around with filters before I take my shot.
Also missing from the Android app is the Tilt Shift/Blur feature, which lets you selectively blur out certain areas of your photos. This function is really cool, as you can fake a shallow depth of field in your photos or blur out the background of your photo to focus on a single object.
Familiar Effects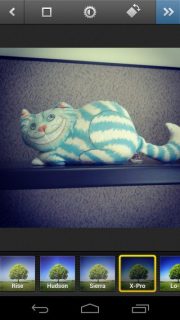 After you take your photo, the options are pretty much what iOS users have come to expect: Instagram gives you access to a series of image filters that let you stylize your photo. You can add or remove a frame that's added to your image by some of the filters, and you can rotate or brighten your image. The filters are almost identical to the iOS version, though I noticed one funny difference: There's an X-pro II filter on the iPhone and an X-Pro filter on Android. The Android filter looked a little darker.
Once you've applied an effect, you can share your photo from your Android phone to Twitter, Facebook, Tumblr, and Foursquare. You can share to all these networks on the iOS version, but additionally to Flickr, Posterous, or via e-mail. And given that this is Android, I would have also loved to see some Google+ integration here.
Viewing the feed containing your friends' photos is basically the same on both platforms. You have the option to Like a photo, comment on it, share it, or delete it. When you click Share on the Android app, you have the option to share it via Bluetooth, Gmail, Message, and—hey, look at that, now you can share it to Google+.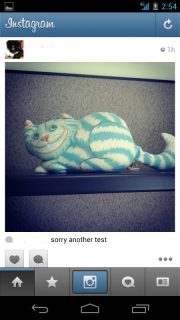 It is worth mentioning that quite a few photography apps are available for Android that offer more filters and better effects than Instagram, including Camera360 and MagicHour. Instagram also isn't the first photo-sharing site for Android. The Lightbox photo community has been around for a few years and was specifically designed for the Android platform by a former Google employee. And I like its interface for Android better than Instagram, though the user community is a lot smaller.
Even so, it is exciting to see a longstanding iOS-only app finally make its way to Android. Instagram on Android is faithful to the original iOS version, but the company really needs to work on improving the consistency across various Android phones. It's no good to have an app behave differently on different phones with the same operating system…but, then, that may say more about Android than about Instagram.
Fragmentation aside, I hope that Instagram will bring the Tilt Shift/Blur and live filter preview features to Android in a later update. Both features are a joy to use on iOS, and Android users deserve to have them, too.