Nokia's flagship Windows Phone–the Lumia 900–will hit the streets on April 8 for $99 with a new 2-year AT&T contract. The price is attractive considering Lumia 900's competition typically costs around $100 more, but did Nokia cut corners to get its device to such a low price?
Let's compare the Lumia 900 to four other smartphones: Apple's iPhone 4S, HTC's Titan 2 and One X, and Samsung's Galaxy Nexus.
The Lumia 900 is one of the thicker phones in the bunch, at 11.5mm thick. The fattest phone is actually another Windows Phone device: HTC's Titan 2, which measures 13mm thick. The sleekest phone is HTC's One X, which is just 8.9mm thick and weighs 130 grams.
The Windows Phones in this comparison suffer from slower processor speeds and lack of memory. Both the Lumia 900 and the Titan 2 have single-core processors and 512MB of memory, as does the iPhone 4S. The other phones (the One X and Galaxy Nexus) feature dual-core processors and 1GB of memory. The HTC One X will have a quad-core processor overseas, but this version will not be available in the US.
Dual-core chips and 1GB of RAM are commonplace in today's smartphones, so I can only assume Nokia decided to go with a single-core processor in order to cut costs for the customer.
The Windows Phones also lack in storage–the Lumia 900 and the Titan 2 only come in 16GB versions, while the iPhone 4S has multiple options (16GB, 32GB, and 64GB), and the Galaxy Nexus has 32GB of space. The U.S. One X has only 16GB of storage, but the overseas version has 32GB. None of the devices compared have expandable storage options.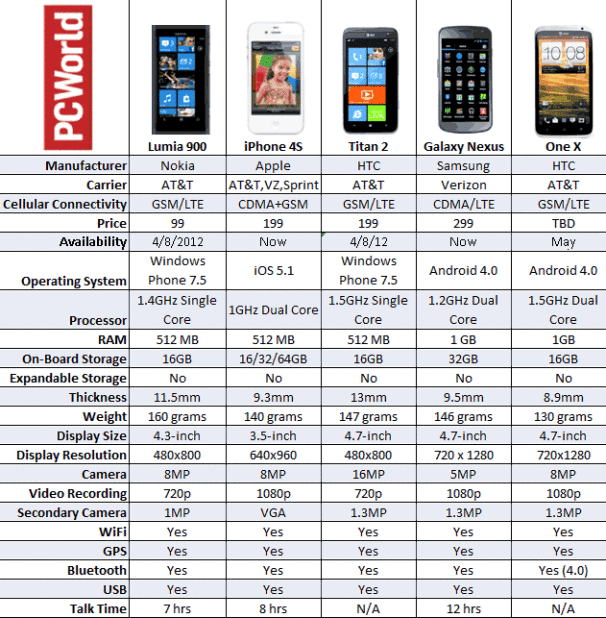 The iPhone 4S has an impressive Retina Display, but it also has the smallest screen of the bunch at 3.5 inches diagonally. The Titan 2, Galaxy Nexus, and One X all sport 4.7-inch screens. The Lumia 900 splits the difference here, leaning toward a larger screen at 4.3 inches.
The biggest discrepancy is in the cameras. Samsung decided to go cheap here–something PCWorld's review team found disappointing–taking away from a generally solid device with a flat, 5MP camera. The Titan 2, on the other hand, features an impressive 16MP camera which my PCWorld colleague Ginny Mies called "amazing". The Lumia 900, iPhone 4S, and One X all have 8MP cameras, but only the iPhone 4S and the One X can record video in 1080p resolution.
For more tech news and commentary, follow Ed on Twitter at @edoswald, on Facebook, or on Google+.