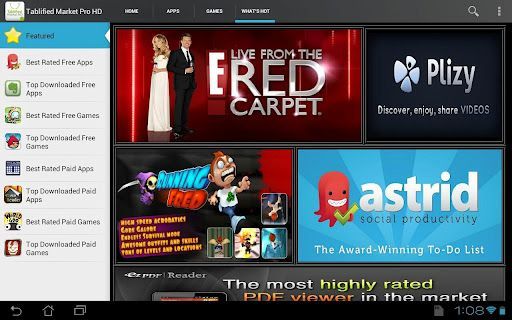 If you're among the growing number of owners of Android-powered tablets, you may have experienced some frustration with app selection on Google Play (formerly Android Market).
That's because Google's app store mixes phone and tablet apps, with no clear-cut way to differentiate between them. Thus you'll frequently encounter apps that aren't designed (or at least optimized) for your tablet.
Tablified Market HD is like an app store just for tablets. It culls all the tablet-optimized apps from Google Play, at the same time giving you app-related news and reviews. Think of it as one-stop shopping for the discriminating Android tablet owner.
This isn't just some fancy filtering used to cough up a list of tablet-compatible apps; the developers pick and choose those that take full advantage of a tablet's larger screen and, where possible, leverage Android's Action Bar and Fragments API.
In other words, they separate the app wheat from the app chaff, the latter being apps built for Android phones.
Alas, Tablified Market isn't perfect. For one thing, it requires Android 3.0 or later, so you can forget about running it on your older, Froyo- or Gingerbread-powered tablet.
Also, it's somewhat sluggish, which can be frustrating. The developers are aware of this and working to optimize their servers.
There's a Lite version of Tablified Market that's free, but it's heavy on the ads. For a mere $1.49, you can get Tablified Market Pro, which delivers an ad-free experience. If you own a compatible Android tablet, you should definitely try one or the other.
Contributing Editor Rick Broida writes about business and consumer technology. Ask for help with your PC hassles at hasslefree@pcworld.com, or try the treasure trove of helpful folks in the PC World Community Forums. Sign up to have the Hassle-Free PC newsletter e-mailed to you each week.