Hundreds of new iPad owners' complaints about Wi-Fi connectivity issues with their tablets prompted Apple to investigate the problem. Just weeks after the new iPad went on sale, AppleCare has been instructed to "capture" and replace affected units, according to a leaked internal memo seen by 9to5Mac.
The issue has been brewing for a few weeks now: mere days after the new iPad launched last month, complaints started pouring in on Apple's support forums that the third-generation tablet often drops or has problems connecting to Wi-Fi networks. To date, the thread documenting poor Wi-Fi reception on the new iPad has more than 720 replies and has been viewed more than 62,000 times–a small percentage overall of the 3 million new iPads sold in the first three days alone.
The symptoms the users report with the new iPad include weak reception when other iOS devices in same room have full strength signal, as well as slow transfer speeds over Wi-Fi. Those are the same issues highlighted by the purportedly leaked internal Apple memo.
The memo asks AppleCare staff to "capture" any third-generation Wi-Fi-only iPads that show signs of intermittent connectivity, slow Wi-Fi speeds or the Wi-Fi network is not seen. By capturing, Apple refers to replacing affected units and shipping the possibly faulty unit back for further examination.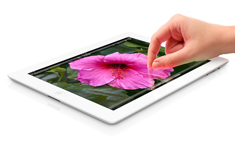 Although the Apple memo seems to refer to Wi-Fi-only iPads, some of the users who were reporting problems on the Apple forums are saying that they are experiencing similar issues with the 4G + Wi-Fi model as well. Many of these users say they had their devices replaced when taken to an Apple store.
A Possible Fix?
A possible fix for the issue comes from OSXDaily, with mixed results from users, which implies forgetting and rejoining a Wi-Fi network from the settings menu, as well as resetting the network setting on the new iPad. Since my new iPad has not been showing any of the Wi-Fi connectivity issues reported by other users, I was unable to test whether this fix does the trick.
Do you have a new iPad and encountered Wi-Fi issues? Sound off in the comments.
Follow Daniel Ionescu and Today @ PCWorld on Twitter