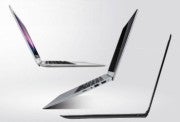 If I use the term "Ultrabook," you picture a very particular kind of laptop, don't you? It's super thin, sleek, and light. It's small enough to fit in a small shoulder bag or large purse…something very much like the Macbook Air. This is the image Intel has tried to cultivate for its Ultrabook brand. If you go to Intel's own Ultrabook site, you see a rendered faux-laptop that could almost be mistaken for Apple's. What about a 15.6-inch laptop that weighs as much as a Macbook Air, iPad, and smartphone combined? Would you call that an Ultrabook? Intel would.
What is an Ultrabook, Really?
Thus far, Ultrabooks have been really slim, with 11-inch or 13.3-inch displays. Whether you're talking about the Dell XPS 13, the Asus Zenbook, or the Folio 13, you're expecting a somewhat Air-like product; less than three-quarters of an inch thick, around three pounds or so, with a decent processor, a solid state drive, and a battery that will last about 5 hours or more. It's a new breed of ultraportable PC: thinner, lighter, faster, and made with premium materials. Just look at Intel's new commercial for Ultrabooks and you'll see a super-slim and light laptop with a tapered edge and a 13-inch display. Even Intel is selling the idea that Ultrabooks are like the Macbook Air.
Here's the rub: the specifications a laptop has to meet to be called an Ultrabook don't have a whole lot to do with that image. In order to participate in the Ultrabook branding program, a laptop has to have a current-generation Intel Core processor, a battery that lasts for 5 hours (I'm not sure how that's measured), and a resume-from-hibernate time of 7 seconds or less. It also has to support a few key Intel technologies (the Intel Management Engine, Intel Anti-Theft, and Intel Identity Protection). Notice anything missing from that list? Like weight, size, durability, materials, or display quality?
Intel does make one size constraint, but even there it leaves too much wiggle room. An Ultrabook must be no more than 18mm (0.71 inches) thick if the laptop has a 13.3-inch or smaller display. Want to make a big 'ol Ultrabook? No problem! A 14-inch or larger display a manufacturer can bump the thickness up to 21mm (0.826 inches). That's pretty thin, but it's not a thickness never-before-seen in the land of Windows laptops. In fact, it's just three millimeters thinner than a Macbook Pro, and nobody even calls that an ultraportable – let alone a whole new breed of ultraportable. Oh, and it doesn't include the little feet on the bottom of some laptops, so the real practical thickness may be thicker. We're already seeing this in Ultrabooks like the HP Envy 14 Spectre and Samsung Series 5 Ultra. Both have 14-inch screens and both were criticized for being a little too thick and heavy to meet our expectations for what an Ultrabook should be.
It's Not Just About Size
Intel will tell you that the Ultrabook brand isn't just about size; it's about responsiveness and security, too. Unfortunately, the responsiveness metric is a load of bull. A laptop can have a slow hard drive and use a flash memory cache for the hibernation file to meet the "resume from hibernate in 7 seconds" metric. But that kind of setup won't make your laptop load applications quickly like an SSD will. As for security; Intel Anti-Theft Technology lets you disable your computer remotely if it's stolen. Most people don't bother setting it up. Intel Identity Protection is just a two-factor login built into your computer for some secure websites; another feature the vast majority of consumers aren't aware of and don't bother with. It's also supported by far too few sites to be really effective. If security is such an important part of a modern notebook, where's the requirement to support TPM for secure encryption?
These features aren't necessarily bad. They're nice additions, even if most users don't seem to care that much. They just exhibit a skewed view of what Intel thinks the next generation of ultraportable laptops should be. If you hand a consumer a laptop that is 0.8 inches thick, has a 15.6 inch screen, weighs 5.5 pounds, measures 14 by 11 inches, and is made of cheap plastic, you can't possibly expect them to consider it the next-generation of super-portable computer. It's not an Ultrabook. Sure, it meets the specs, but it doesn't match the idea.
You can expect a flood of these Ultrabook-in-name-only laptops as the year rolls on. At CES 2012, Intel said to expect over 75 Ultrabooks in 2012. I guess the company thinks this is proof of the popularity of the new category they've created, but I say its proof that they didn't create a new category at all. How unique and special and cutting-edge is a new category of laptop if 75 products qualify in single year?
What an Ultrabook Should Be
I'd like to see new specifications for Ultrabooks. Limit the weight to no more than 4 pounds. Require touchscreens (especially in light of Windows 8's touch-centric interface). Force a minimum level of performance based on real-world applications and tasks, not just resume-from-hibernate time. Require sensors like GPS, accelerometers, gyroscopes, and NFC, enabling application developers to create a new wave of apps that have the features we've come to expect from smartphones and tablets. Specify high-resolution displays that look good from all angles, and demand dramatically improved trackpads. Limit the flex in the lid and base when the laptop is open, forcing manufacturers to use better materials and increasing long-term durability. In a recent interview, an Intel representative told us, "'Ultra' means pinnacle, and we wanted the Ultrabook to be the pinnacle of everything that users have come to expect from their computing device." These requirements would do a lot more to define a next-generation mobile computing experience than some nonsense about two-factor authentication on a handful of websites.
We can only hope that, as Intel evolves the requirements for the Ultrabook brand over time, it sets the bar high enough that you won't see 75 laptops in a single year all claiming to be the "pinnacle of everything that users have come to expect from their computing device." The worth of an Ultra brand is in proportion to how hard it is to achieve. This year, the Ultrabook brand is a bar so easy to clear that it's all but meaningless.