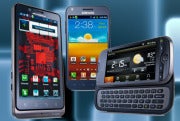 Shopping for a new smartphone is tough: With so many phones out there, finding the best one for your work life and your personal life can be headache-inducing. This guide highlights business features among the different operating systems, explains the best specs for business, and offers advice on the apps you should download once you purchase your smartphone.
Also, be sure to check out our consumer cell phone buying guide, which walks you through the general features and specs to look for and test while shopping for a phone.
Operating System
Google's Android (found on multiple devices), Apple's iOS (found only on iPhone models), RIM's BlackBerry OS (found on BlackBerrys of various designs), and Microsoft's Windows Phone 7 all can be ideal for business, but each OS offers different features and advantages. Familiarize yourself with all of the platforms before settling on one. Prior to your shopping trip, ask your IT person whether your mail system is compatible only with certain clients, or if he or she recommends one mobile platform over another for your work email.
Android
Current Android phones run either Android 2.3 (Gingerbread) or Android 4.0 (Ice Cream Sandwich). Many Gingerbread phones will receive an upgrade to Ice Cream Sandwich eventually, though, and ICS adds a slew of business-friendly features to the Android platform.
Both Gingerbread and ICS support near-field communication (for making mobile payments), Voice over IP calls, and one-touch word selection and copy/paste.
ICS's Gmail app has a context-sensitive Action Bar at the bottom of the screen that changes depending on where in the app you are. For example, when you're looking at an email message, you see options to archive it, trash it, label it, or mark it as unread. When you're viewing your inbox, the bar changes to display options for composing new messages. Adding attachments from your gallery or other folders is now much easier as well. If you're a heavy Gmail user, you'll appreciate these updates.
To help you organize your IMAP and Exchange accounts, the Email app in ICS supports nested mail subfolders. The Email app also supports Exchange ActiveSync v14.
iOS
Traditionally, business users have not favored Apple's iOS. However, in its latest iteration, iOS 5, the platform has expanded its business features.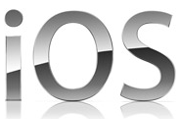 The platform update introduces Siri (currently only on the iPhone 4S), which strives to be your very own digital personal assistant. Siri lets you send text messages, create calendar appointments, set alarms, and solve basic math equations via voice command.
Perhaps the biggest deal about iOS 5 for business users is the addition of iCloud, Apple's cloud service that lets you sync and share documents (as well as photos, videos, and music) across multiple iOS and Mac devices.
In the iOS 5 mail app, you can add rich formatting, such as bold and italic text, to messages, as well as indent text. Mail now has a built-in dictionary, too. Another highlight is the iMessage app, which lets you send messages to any iOS device, regardless of whether it has SMS support.
Windows Phone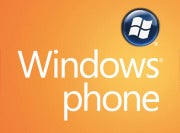 Microsoft's latest version of its mobile platform, Windows Phone "Mango," has a variety of practical features for business users. Perhaps the most important feature is the Office Hub, which gives you full access to the Microsoft Office Suite; there you can view, edit, and create documents in Word, Excel, and PowerPoint. Users also have access to OneNote, Microsoft's version of Evernote, which lets you jot down notes and associate images with them. In addition, with Mango, you can save and share Office documents through Office 365 and Windows Live SkyDrive, so you can access your documents whenever you need them.
Email messages are organized by conversation, with replies to a thread consolidated into a single view that you can follow more easily. You can make multiple inbox groups, too: If you have two work-related inboxes, for example, you can group them together to see all of their messages in one place, while keeping your work email accounts separate from your personal email accounts. You can also pin any of your inboxes to your home screen for quick and easy access.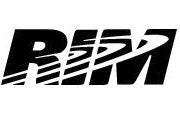 BlackBerry
All phones with BlackBerry 7 OS (the latest version of RIM's software) come equipped with BlackBerry Balance, which helps you maintain your business and personal lives on one phone. When your handset is connected to your company's BlackBerry Enterprise Server, Balance keeps your personal information separate and your business information secure.
The incredibly useful BlackBerry Protect lets you back up your data and manage multiple devices. If your BlackBerry is stolen or lost, you can remotely locate it, wipe it, lock it, or change the volume of the ringer. Like Balance, this service is completely free for BlackBerry 7 OS users.
Last but not least, the premium version of Documents to Go is available for free on all BlackBerry 7 OS phones. Users can now compose, edit, and view Word, Excel, and PowerPoint files. This addition is just one more excellent business feature that BlackBerry OS offers its enterprise customers.
The Specs That Matter for Business
The particular phone features described below are crucial to business users, but if you plan on using the same phone for your everyday life, check out our general cell phone buying guide too.
4G
Following a lot of buzz, the next generation of wireless networks, 4G, has arrived in the form of two main technologies: WiMax and Long Term Evolution. The main advantage of 4G lies in its faster download and upload speeds, which significantly improve streaming video and Web browsing, and allow features such as videoconferencing.
If you decide to buy a 4G phone, first confirm that your area has coverage. Verizon currently offers 4G coverage in 175 U.S. cities (check the carrier's coverage map). Sprint has a complete coverage map of its WiMax network, too. AT&T has launched 4G LTE in 15 cities, and it plans to complete the rollout by the end of 2013.
Currently AT&T and T-Mobile are promoting their HSPA+ networks–which essentially use a more advanced version of 3G protocols–as being capable of achieving 4G-like speeds. If you're looking into buying a 4G phone on AT&T, verify whether it supports an LTE network or an HSPA+ network. Generally a 4G LTE phone will have faster data speeds, but it may also have limited coverage. We have seen "4G-like" speeds on HSPA+ phones in our tests.
HDMI/MHL
An HDMI port will let you hook up your smartphone to an HDTV, which is ideal for giving presentations on the go. Some phones have MHL ports rather than HDMI. The MHL specification (Mobile High Definition Link) is a 1080p HD video and digital audio interface for connecting smartphones and other portable devices (tablets, cameras, and the like) to HDTVs. So what's the big deal? It simultaneously provides power to your phone–something that HDMI cables don't do.
Front-Facing Video Camera
If you plan on making video calls or participating in videoconferences from your phone, make sure that it has a front-facing video camera. Front-facing cameras range from VGA video-only cameras to 2-megapixel cameras that can take still images as well. Video quality, however, won't be as dependent on the actual camera as it will be on the app or network you are using to make the call.
Built-In Storage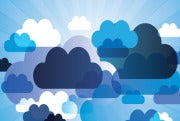 Whether it is in the cloud, in your phone, or available on removable memory, storage is a big factor to consider when you're purchasing a smartphone. If you plan on storing a lot of documents and presentations on your phone (along with your personal photos, music, and videos), this is a spec you'll definitely want to pay attention to while shopping. Some phones have built-in ROM storage along with a MicroSD slot (for example, an 8GB phone might offer built-in memory plus a MicroSD slot expandable up to 32GB).
Keyboard
If you simply can't adjust to a touchscreen keyboard, consider a phone with an actual QWERTY keyboard. Smartphones with physical QWERTY keyboards are an endangered species nowadays, but you can still find a few out there. You might opt for a candy-bar model, such as the BlackBerry Bold 9790 or the Motorola XPRT, or a phone with a slide-out keyboard, like the Samsung Captivate Glide.
Next Page: Applications and Accessories
Applications
Once you've picked out your phone, you'll probably want to start downloading some apps. Dozens of useful business apps are out there, and we've tested almost all of them.
Security Apps
Your smartphone is a big part of your professional and personal lives, so you must be sure to keep your contacts, documents, and other multimedia content safe. Security apps not only provide backup services for your phone, but also protect your device against malicious apps and phishing sites. Malicious apps have been a bigger issue on Android, and most security apps are strictly for Google's mobile operating system. If you'd prefer a familiar name, many desktop security suites, such as AVG Antivirus, Norton, and Webroot, now offer mobile versions. You'll also find mobile-only security tools, such as Lookout (a PCWorld favorite) and NetQin. In addition, lots of security apps include a phone-tracking feature, which lets you locate your missing phone on a map, and most of these apps allow you to remotely wipe your phone if you can't recover it.
Productivity Apps
From making simple to-do lists to sketching new ideas, hundreds of apps promise to save you time and help get the job done. The best way to get started is to look in your phone's app store under the productivity category and search for the top-rated apps. Some of our favorites are Remember the Milk (task list manager), Evernote (note syncing), SketchBook MobileX (drawing app), and Instapaper (Web bookmarking).
Cloud-Sync Apps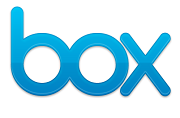 As I mentioned in the section on operating systems, iOS and Windows Phone have their own built-in cloud-syncing services. A slew of third-party cloud services are available across multiple platforms, too. The ever-popular Dropbox, for instance, automatically syncs your files to the cloud and across your devices. Box, another service, lets you store all of your content online, and it can integrate with Google Apps. Other document-syncing apps include Funambol OneMediaHub, SugarSync, and GDocs for Android.
For even more business apps, check out some of the following roundups:
* 10 Most Useful BlackBerry Apps
* 10 Must-Have Android Apps for Business
* Five Cool, Free Business Apps for Your New Smartphone
* 10 Killer iPhone Apps for Business Collaboration
Accessories
Other than the requisite protective case, quite a few useful phone accessories are available for professionals. Here are some you might consider purchasing alongside your new phone.
Portable Outlets and Chargers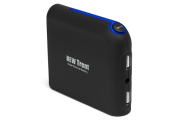 If you're a power user, you're going to require a lot of, well, power. And if you're a business traveler, you're probably all too familiar with the lack of outlets at airports. Portable outlets, such as the Monster Outlets to Go Power Strip, give you three AC outlets and a USB connection in a compact, travel-friendly design. The iGeek Large Capacity Portable Charger lets you charge your phone and tablet wirelessly.
Bluetooth Headsets
The market has a ton of Bluetooth headsets to choose from; currently PCWorld's top-rated headset is the Jawbone Era. With a Bluetooth headset, you can conduct conference calls on your morning commute (just keep your eyes on the road!) or discreetly check your voicemail while you're on vacation with the family.
Pico Projectors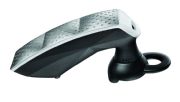 A pico projector case not only protects your phone, but also lets you project PowerPoint presentations on the fly; our sister publication Macworld tried out the Brookstone Pocket Projector. If you prefer, you can buy a separate pico projector to go with your phone. A few phones, such as the LG eXpo and the Samsung Galaxy Beam, sport built-in projectors.
More than likely, you will want a phone that can serve both your business requirements and your personal needs. And thankfully, most smartphones will be able to do just that–with the help of some apps and accessories.