At a Glance
Expert's Rating
Pros
Easy to use
Attractive layout
Cons
Facebook search is limited
Can't create stories in IE
Our Verdict
Turn your favorite Web and social media content into a story with Storify.
Take a dash of Tumblr, and mix in a cup of Pinterest. Sprinkle it with Facebook and top it off with Twitter, and you'd have Storify, a social media curation service that's a whole lot easier to use than it is to describe.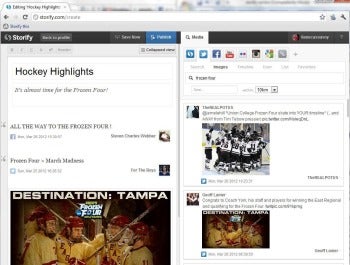 Storify is designed to let its users tell their own stories, creating them from content found around the Web. To use the service, you simply sign up for an account (or link it to your existing Facebook or Twitter account) and begin creating. Storify's two-paneled interface lets you collect content on one side, and then drag it over to the other side when you want to use it in your story. The version we reviewed is a Web-based application; vendor Storify Inc. also makes an iPad app.
The Media panel, which sits on the right side of the screen, is where you find content. From here, you can search for content from popular sources, such as Twitter, Facebook, YouTube, Flickr, and Instagram; Storify's search panel also includes a link to search Google, which means that the entire Web is at your fingertips. The tabbed layout makes it easy to search for specific content types, such as images or comments. Once you find content you like, you simply drag it to your story to add it. Storify also offers a "Storify this" bookmarklet, so you can save content you find while perusing the Web. When you find something you like, you just click the bookmarklet to add it to your Storypad, which is where it sits until you want to use it in a story.
Once you've found the content you'd like to use in your Storify story, you drag and drop to add it to your story, which you create in a panel on the left side of the screen. You can include images, text, hyperlinks, Facebook comments, tweets, and, well, almost anything you find online, plus your own text, too. Storify arranges everything in an attractive layout, and you can change the order easily by dragging and dropping. Once you story is complete, you can publish it to the Web, which makes it available on Storify's site. You also can share it via email, which allows recipients to view the full story in their inbox, without having to click a link, or on Facebook or Twitter. In addition, Storify stories can be embedded on your own blog or Web site.
One of the biggest concerns about curation services is copyright. Pinterest, which just might be the hottest curation service around, has come under fire for this very issue. Storify says it handles content differently than some of its rivals, as the company does not store any of the content you curate on its own servers. All of the content is loaded from its original location, and Storify simply links to it. And all of the content that is posted to a Storify story is attributed to its original source. Storify does give users the option to notify the original creator when you use their content, but right now this option only works for Twitter content that you curate. The company says it hopes to expand this notification feature to additional content sources, though.
I'd also like to see the company refine its search capabilities a bit. Right now, the Twitter search options feel very complete: you can search for images, tweets, specific users, and more. By comparison, the Facebook search options are limited to public status updates (though Storify also lets you see Facebook comments on your posted stories, and allows you to see comments on a page if you know the URL). It would be nice to search for images or content from a specific user.
While the search function feels a bit unpolished, the finished results that Storify lets you create are anything but. Using Storify, you can create and publish a polished-looking story in a matter of minutes; this is a simple service that delivers results you'd never call simplistic.
Note: The Download button takes you to the vendor's site, where you can use the latest version of this cloud-based software.
–Liane Cassavoy