[Ed. note 3/7/13: ForgetBox has been temporarily discontinued.]
Tired of clogging up your email account with oversized attachments? You can free up some space with ForgetBox (free), a handy utility that handles the heavy lifting of file transfers for you.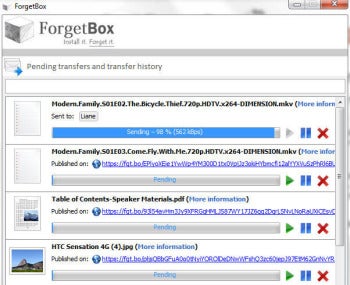 ForgetBox has two components. One is a standalone application that you download onto your Windows or Mac computer. This application is designed to allow you to share anything, whether that's a single file or a folder chock full of files, with four clicks. You right-click the items you'd like to share and select the "Send with ForgetBox" option that will appear in the contextual menu. You then select the contact with whom you'd like to share the files (either by importing contacts from Facebook or Google or the like, or by entering an email address), and click send. That's when ForgetBox goes to work, uploading the file to its servers in the background, as you go back to work and, well, forget all about ForgetBox.
Once the file has been uploaded by ForgetBox, recipients will receive an email from ForgetBox notifying them that they have a file available for download. But if your file is particularly large, this email can take a while to upload: I tested ForgetBox by sharing a 558MB video file, and it took several hours to upload. ForgetBox says that the speed depends on the connection and location of the user, with typical upload rates of about 100KBps. I tested the service using a speedy connection from Verizon FiOS, which delivered uploads of 12MBps, according to speedtest.net. Downloads were much quicker, as the same video file was downloaded by the recipient in a matter of minutes.
The second component–and the newest feature of ForgetBox–is an add-on for Gmail, which brings ForgetBox's features right to your email account. You can add it to your account after you install ForgetBox. it For now, it works only with Google Chrome, Firefox, and Safari, but the developer has plans to include support for IE and Opera. Once installed, it adds an additional option for sending attachments when using Gmail: next to the "Attach a file" button in Gmail, you'll see "Attach a BIG file (with ForgetBox)".
Choosing the option routes your file transfer through ForgetBox, instead of through Gmail. The file (or files) are uploaded to ForgetBox's servers, and the recipient gets an email from ForgetBox once the files are available for download. This approach can be a bit confusing, especially if you don't notify the recipient that the files won't be arriving directly from you. The first notifications from ForgetBox landed in my junk mail folder, so I nearly missed them. I also had two of my file transfer fail to complete. ForgetBox notified me of the failure right away, but didn't give any reason for it. The developer says this can happen if the servers are overloaded, and my files did transfer successfully on my next attempt.
A utility from WinZip, called ZipSend, offers a similar service that's easier to use, and also proved less buggy in my tests. ZipSend is available as a standalone service for use with email attachments only, and is also part of the $30 WinZip file compression utility. ZipSend proved quicker in my hands-on tests, but is also more expensive: the free ZipSend Lite limits you to files of 50MB or less, and the $50-per-year Pro version limits you to files of 2GB or less. ForgetBox has no file size limits.
ForgetBox is available in a free version that comes with a few limitations: Files are stored on the servers for only 24 hours after the recipient is notified of their availability. And recipients must wait 15 seconds before downloading the files. The paid version, which costs 3 Euros for six months stores files for one week and allows instant downloads. The Gmail add-on costs 15 Euros per year, but if you invite two friends to try it out, you can get one free month of access.
If you need to share a lot of files and don't want to clog up your email account with them, ForgetBox offers an easy way to handle the task. But be prepared to wait if you're sharing sizable files: if you need to get the data to someone ASAP, ForgetBox may not be for you. If you're looking for a speedier and smoother solution, WinZip's ZipSend may be for you, if you're willing to pay the price.