At a Glance
Expert's Rating
Pros
Speeds up sending large attachments
Easy to use
Cons
Free version has size limits
Our Verdict
ZipSend leverages the power of WinZip's compression software to speed up the sending of large email attachments.
WinZip is famous for its file compression software, and chances are good that you've used it to shrink files before attaching them to an outgoing email message. But even when compressed, some files can still take up plenty of space, slowing down your emails as they travel. Enter ZipSend Lite, a free file delivery service from the creators of WinZip that significantly speeds up the sending of sizable emails.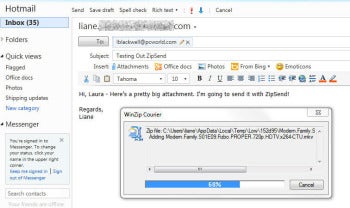 ZipSend is available on its own, and is also included in the WinZip file utility. As a standalone product, ZipSend is available in two versions: the free Lite version, which limits the file size to 50MB per message, and expires files in seven days; and the $50-per-year Pro version, which lets you attach files up to 2GB and does not expire files.
ZipSend has two components: a cloud-based service and a downloadable plug-in. Once you sign up for an account, you're prompted to download the plug-in, which is called WinZip Courier. This plug-in works with your Outlook email client or your Web-based email account (Gmail, Hotmail, and Yahoo Mail are supported) to compress and upload files. (Note: You sign up with a single email address, and ZipSend is linked to that account, whether you check it on the Web or in Outlook.)
You can configure WinZip Courier to use the ZipSend service always, never, or when attachments are over a certain size, which you can set yourself. You also can choose the compression method (zipx or zip: legacy), the attachment name, and whether or not to encrypt the attachments. Then, you go about your daily business of emailing just as you always do.
When you browse for a file to attach to your email message, WinZip Courier's options display below the normal Windows Explorer interface. Here, you can click a box to encrypt or zip any files you're attaching to the message. And, if your attachment meets the criteria you've previously set for ZipSend, the entire process is handled automatically: When you select the file to attach, ZipSend zips it for you and uploads it to its servers.
A link to your files is placed in the body of the email message, with a note to the recipient that the files have been shared with them. If there is an expiration date on the files, ZipSend includes that info, too.
ZipSend Lite is easier to use than a free, rival utility called ForgetBox, which offers a similar way to send large attachments by uploading them to its server, and then sends recipients a link to a downloadable version of the attachment. But ForgetBox also allows you to share any file on your computer this way, simply by right-clicking it. ZipSend does allow you to share files in a similar way, but only when it's used as part of the $30 WinZip application–and even then, you have to place the files in a zipped folder to do so. Still, ZipSend makes it easy to share large files without clogging up your email account–or that of your recipient.
Note: The Download button takes you to the vendor's site, where you can sign up for the service and download the latest version of the software.
— Liane Cassavoy